Cisco TelePresence Anywhere Video Data Sheet
Cisco TelePresence Anywhere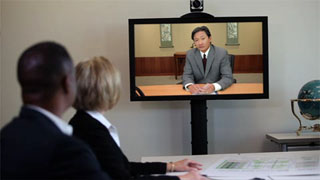 Cisco TelePresence integrates management, connectivity, innovative video technology, and collaboration tools. (2:33 min)

Viewing this embedded video requires the latest version of Adobe Flash Player with JavaScript enabled.
Get the Flash Player
Create Immersive Virtual Experiences
Meet "face-to-face" with remote customers, suppliers, and partners using the Cisco TelePresence System 3000 series of endpoints. This system provides a boardroom-style table that seats six participants in one location. The life-like, remarkably clear video images help you see every expression, and the CD-quality audio helps you hear every word.
Features include:
Specially designed, high-definition cameras that require no user operation
Full-duplex, CD-quality audio with no perceivable latency and no interference from mobile devices or cell phones
Multipoint meetings with up to 48 locations in any combination of Cisco TelePresence endpoints
Integration with common enterprise calendaring programs for easy and automated call start and controls
Interoperability with standard- and high-definition video conferencing endpoints and collaboration with desktop video applications
Integration with the network helps ensure reliability, high availability, security, and quality of service. Encryption of both video and call signaling provides highly secure communications, both internal and external.
Whether your meetings are planned or impromptu, you can meet "in person" anywhere with a Cisco TelePresence endpoint, with just a push of a button.

Transform your business with telepresence—watch videos, demos, and share by email, Twitter, and Facebook.
Note: The Cisco TelePresence System 3010 and 3210 are not available in the European Union.
Additional Resources