Compact Campus Distribution
Get scalable 10 GE distribution for space-constrained environments.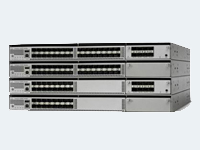 Simplify Network Virtualization
Close

Viewing this video requires the latest version of Adobe Flash Player with JavaScript enabled.
Intelligence in Action
Close

Viewing this video requires the latest version of Adobe Flash Player with JavaScript enabled.
Performance and Scale with Services
Cisco Catalyst Switches for campus distribution and core provide the intelligence, performance, scalability, and resiliency essential to address emerging trends and deliver end-to-end solutions.
Flagship Catalyst switching services platform for core/distribution deployments
Virtual Switching System bolsters availability and scales to 4-terabit capacity
Up to 160 gigabits per slot; 100 Gigabit Ethernet ready
Integrated services modules enhance security, manageability, and wireless control

Catalyst switching platform for moderate density 1G/10G distribution deployments
Up to 848 Gbps switching capacity
Up to 196 x 1G SFP ports, up to 100 x 10G SFP+ ports
High availability with In-Service Software Upgrade and Stateful Switchover

Catalyst switching platform for space-constrained distribution deployments
Best-in-class scalability, up to 800 Gbps switching capacity
Up to 40 1G/10G ports, hot swappable uplink module
Compact, one rack unit (1U), low power form factor

Catalyst switching platform for low density 1G distribution deployments
12 and 24 Gigabit SFP port models, 1 and 10G uplink modules
StackWise® and StackPower™ contribute to scalability and resiliency
Flexible NetFlow available with uplink Service Module
Resiliency
High availability features help ensure nonstop connectivity and business continuity. In-service software upgrades virtually eliminate downtime for updates, while the virtual switching system (VSS) enables two active switches to appear as one, with a single point of management.
Consistent Experience
Only Cisco extends consistent network services – for security, video, wireless, network management, and more – from the user edge through campus distribution, core, and the data center. Integrated services modules in Catalyst 6500 Series Switches reduce network footprint and simplify management.
Application Visibility
Cisco Flexible NetFlow technology enables customers to view traffic flows granularly to the application level. Greater control over flow data helps speed responses to mitigate attacks, adjust bandwidth provisioning, and enable continuous monitoring.
Simplified Operations
Cisco Catalyst SmartOperations brings together a set of technologies and Cisco IOS Software features to simplify network planning, deployment, monitoring, and troubleshooting, lowering IT operating costs and total cost of ownership.
Make Your Network Agile, Intelligent, Trusted
Let Cisco Catalyst switching innovations add intelligence and agility to your network, enabling your business to capture opportunities and embrace trends, while leveraging your current investments and lowering operating costs.