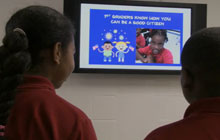 Media Options
Watch video (3:41 min)

Mobile Transforms Education Experience with Video

Close

Viewing this video requires the latest version of Adobe Flash Player with JavaScript enabled.

Read Case Study (PDF - 777 KB)
Next Steps
Challenge
Provide robust instruction to students across large geographical area and maximize limited faculty and staff resources.
Solutions
Capture, transform and share video with Cisco Enterprise Video solutions and provide an in-person experience via Cisco TelePresence.
Results
Enhanced learning by engaging students with live and pre-recorded video
Improved faculty communication and enabled interactive instruction for homebound and distance students
Increased parental involvement in school system and educational process
---
At MCPSS, video isn't just used to show people information. It's a fundamental part of how we educate now, and it's helping us give students the most enriching education possible.
Executive Manager of Information Technology