Create Network Services
Explore how you can help lead the Cisco TelePresence experience and promote the adoption of collaboration applications. (4:23 min)
herospotlight_managed_tp_service_create_new_service
Video Data Sheet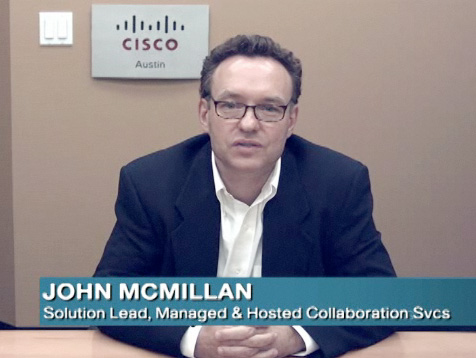 Video Description, Lorem ipsum dolor sit amet, consectetur adipisicing elit. (Xm Xs)
Viewing this embedded video requires the latest version of Adobe Flash Player with JavaScript enabled.
Get the Flash Player
Create "In-Person" Conferencing Experiences
Deploy innovative collaboration and conferencing technology with Cisco Managed TelePresence services. These solutions:
Simulate face-to-face interaction through a life-size video image of each remote participant
Create unique, "in-person" experiences between people in their work and personal lives
Combine innovative video, audio, and interactive elements (both hardware and software) to create the experience over the network
Increase Quality and Revenue
Cisco TelePresence helps you enhance your revenue stream by using your Cisco IP Next-Generation Network (IP NGN) framework. Only with the intelligence of the IP NGN can you deliver the extraordinary video and audio quality that characterizes the Cisco TelePresence experience.
Offer Standard Commercial Services
With a full suite of solution components and the Cisco IP NGN architecture, you can deploy standard commercial offerings for intercompany Cisco TelePresence. These Cisco solutions validate investment in the IP NGN with:
Delivery of high-quality network services for ultra-high-definition video today
Accelerated market delivery of additional value-added, intercompany Cisco TelePresence services using Cisco Session Border Controller XR infrastructure.
Cisco TelePresence Network Connection
Quickly manage bandwidth demand for value-added services. This new class of network service is optimized for Cisco TelePresence solutions and uses a Cisco IP NGN architecture.
Intercompany Cisco TelePresence
Use your existing network to provide highly secure intercompany TelePresence sessions to remote customers using Cisco Session Border Control integrated with the Cisco IP NGN.
Cisco Value-Added Services
Capture new revenues and gain customer loyalty by offering new managed business communications, security, hosted "meet me," and concierge services.