Unify Business Communications
Unify your customers' work space to add value and enhance their experience. (4:10 min)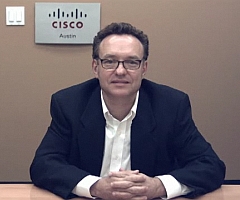 Unify Business Communications
Close
Viewing this video requires the latest version of Adobe Flash Player with JavaScript enabled.
Help Transform Your Customers' Business
Transform your customers' businesses and communications experiences with Cisco Managed Business Communications. These innovative solutions are comprehensive and market proven. Cisco Managed Business Communications solutions provide the tools you need to fully use your network to:
Improve operational efficiency
Create an unparalleled suite of differentiated services
Deliver services on customer premises or in a hosted model
Span Media Types and Customer Segments
The Cisco Managed Business Communications service portfolio builds upon the Cisco IP Next-Generation Network (IP NGN). This infrastructure provides communications solutions that span media types, such as voice, video, email, collaboration, and contact centers. It also helps you span all customer segments, from smaller businesses to large enterprises.
Cisco Managed Business Communications solutions offer features and functions to help you meet customer expectations. These solutions let you create market-leading services and offer flexibility in delivering those services. Our service architectures support the following delivery models:
| Delivery Model | Description | Architecture |
| --- | --- | --- |
| Manage Customer Premises Equipment (CPE) | Partner designs, installs, and manages, and customer hosts the solutions on their premises. | Cisco Unified Communications System |
| Hosted Services | Partner designs, installs, manages, and hosts the solution. | Cisco Hosted Unified Communications Services |
| Software as a Service | Software application is available and priced on demand and delivered via the Web. | Cisco WebEx Collaboration Cloud |
Solution Overviews
(1)
White Papers
(1)
Relevant Products
Find details about hardware devices, software applications, and specialized components that relate to your networking solution.