VSPEX Proven Infrastructure
Simplify your journey to the cloud with Cisco and EMC. (PDF - 108 KB)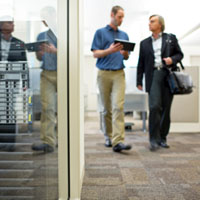 Simplify Server Virtualization for SMBs
Cisco, VMware, and EMC deliver a radically simplified virtualization solution with VSPEX. (PDF - 326 KB)
Read Solution Brief
Build a Small Private Cloud
Deploy the Cisco VSPEX Solution for Microsoft Private Cloud Fast Track 3.0 in minutes. (PDF - 750 KB)
Read Solution Brief
Cisco Unified Datacenter solutions for EMC VPSEX provide a simple, but fully integrated and validated infrastructure. This helps you deploy virtual machines in various sizes to meet application needs.
Cisco and EMC are offering VSPEX solutions built on the Cisco Unified Data Center infrastructure with EMC storage solutions. These flexible solutions can easily be:
Scaled
Optimized for a variety of application workloads
Configured for virtual desktop applications
Optimized for mixed application workloads and cloud environments
EMC VSPEX with Cisco Unified Data Center is a validated reference configuration. It delivers a virtualized data center in a rack composed of leading computing, networking, storage, and infrastructure software components. It also offers a choice of hypervisors through joint partners Cisco and EMC.
Flexible Virtualization Solution (PDF - 107 KB)
Learn the benefits of EMX VSPEX Solution with Cisco Unified Data Center.
VSPEX Reference Architectures
VSPEX Designs
VSPEX for Microsoft
VSPEX for VMware
VSPEX for Virtual Desktops
Visit VSPEX design guides for additional designs
For Partners
Log in to access tools and resources specifically designed for Partners.