Cisco 2013 Annual Security Report
Read breaking analysis with a global perspective into evolutionary threats.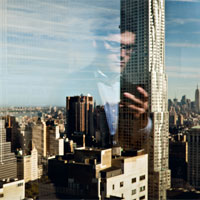 Cisco 2013 Annual Security Report
More Effective, Highly Secure Access
Cisco TrustSec uniquely provides a policy-based platform, the Cisco Identity Services Engine, that offers integrated posture, profiling and guest services to make context-aware access control decisions.
Cisco TrustSec uniquely builds upon your existing identity-aware infrastructure by enforcing these policies in a scalable manner. It also helps to ensure complete data confidentiality using ubiquitous encryption between network devices.
As a core component of the Cisco SecureX Architecture, Cisco TrustSec brings local identity-aware intelligence and enforcement to secure the network resources.
Cisco TrustSec Advantages
Provides a growing mobile and complex workforce with appropriate and more secure access from any device
Lowers security risks by providing comprehensive visibility of who and what is connecting to the wired or wireless network
Offers exceptional control over activity of network users accessing physical or cloud-based IT resources
Reduces total cost of ownership through centralized, highly secure access policy management and scalable enforcement mechanisms
Cisco TrustSec integrates with the Cisco SecureX architecture to allow the Cisco security portfolio to use network-based identity context for full context-aware firewalling and policy enforcement. Learn how to go beyond bring your own device (byod) flexibility to provide the optimal mobile experience for any workspace.
Cisco TrustSec also provides personalized, professional services to simplify solution deployment and management.
Additional Services Coming Soon
Future enhancements to Cisco TrustSec services will provide these context-enabled identity and access services for the new borderless network infrastructure:
Expanded user and network-device support for policy enforcement
Context-based firewall support
Expanded management
Real-time security intelligence feeds from Cisco
Mobile Device Management (MDM) Partner ecosystem
Find details on products that have been validated with the TrustSec 2.1 Release; see the TrustSec 3.0 Matrix for details on the upcoming release.
Featured Content
Additional Resources
Prepare for Personal Devices
Viewing this video requires the latest version of Adobe Flash Player with JavaScript enabled.
Secure Your Network
Viewing this video requires the latest version of Adobe Flash Player with JavaScript enabled.
Why Invest in Cisco TrustSec?
Viewing this video requires the latest version of Adobe Flash Player with JavaScript enabled.
Presentations
(1)
At-a-Glance
(2)
Solution Overviews
(4)
White Papers
(5)