Learn About New Uses for Video
Video communication is becoming the norm. Learn how video is fundamentally changing events, customer care, training, security, and advertising.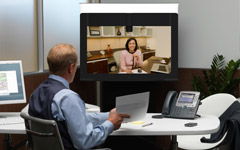 New Ways to Use Video
Learn how video can fundamentally change the way your teams function. Cisco leaders describe how video solutions are propelling collaboration and business transformation.

Customer and Patient Interaction
One of the best ways to interact with customers and patients is by seeing them, and discussing their issues and needs in a "live" setting. Video provides the ideal media. (2:40 min)

Events
Events should bring people together from everywhere to learn, build camaraderie, and inspire. Through video (live and post-event), people become participants no matter where they are based. (2:06 min))

Safety and Security
Like never before, IP video helps organizations safeguard employees and property in real-time, in conjunction with local or national first responders. (2:41 min)
Safety & Security

Training
Hosting training sessions in centralized locations no longer needs be the norm. Through video, you can train people anywhere, on nearly any device, at any time (during or after training). (2:29 min)

Meetings
Communicate and collaborate with clients, partners, and team members in immersive meetings, while others participate from their desktops or personal devices while traveling. (3:48 min)

Organizational Communications
Reach one important person on the team or broadcast to hundreds in high definition (HD) or standard definition, live or on demand to any device. (3:48 min)
Training and Education
Viewing this video requires the latest version of Adobe Flash Player with JavaScript enabled.
Events
Viewing this video requires the latest version of Adobe Flash Player with JavaScript enabled.
Customer/Patient Interaction
Viewing this video requires the latest version of Adobe Flash Player with JavaScript enabled.
Safety and Security
Viewing this video requires the latest version of Adobe Flash Player with JavaScript enabled.
Meetings
Viewing this video requires the latest version of Adobe Flash Player with JavaScript enabled.
Organizational Communications
Viewing this video requires the latest version of Adobe Flash Player with JavaScript enabled.
Advertising
Viewing this video requires the latest version of Adobe Flash Player with JavaScript enabled.