Enhance Collaboration Experiences
Improve business interactions with affordable IP phone systems for the digital economy.
Enhance Collaboration Experiences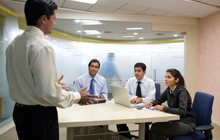 Business Growth
Get the right IT solutions to capitalize on new revenue opportunities and grow your business. Our partners can help your IT team get network connectivity and services up and running quickly. You gain the flexibility, scalability, and IT simplicity that you need to support key business initiatives and new innovations.
Eight Ways to Innovate: Learn how to build your business advantage with video in Forbes Insights white paper.

New

Increasing Data Center Virtualization Efficiencies: See how Walz Group uses FlexPod with Cisco UCS to sustain growth with fast, scalable services. (Video - 2:34 min)
IT for Midsize Business: Learn how our affordable, highly secure IT solutions deliver value to your business. (Video - 1:48 min)
Measuring Communication Costs: Get a side-by-side comparison of unified communications for midmarket by Analysys Mason.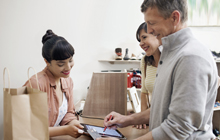 Customer Experiences
Technology is changing your customers' expectations. They want faster service, immediate access to information, and a better customer experience. Discover how our solutions help you provide innovative and compelling experiences to your customers, clients, patients, or citizens when it matters most.
Tips for Secure Guest Access: Read valuable tips to help implement secure guest BYOD access, policy, on-boarding, and management. (PDF - 566.69 KB)
Make Business More Convenient: Watch how a new collaboration platform makes things easier for customers and employees. (Video - 3:56 min)
Why Call IT?: Get back to a simpler set-up with video collaboration solutions. (Video - 0:34 min)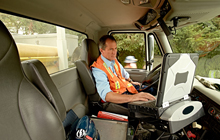 Workforce Productivity
Productivity is a business imperative. Network access is a huge factor in productivity. Our simplified mobile, virtual, and cloud solutions make network access, virtual desktops, collaboration, and communication available anywhere, anytime, on any device. All while keeping your network highly secure and easy to manage.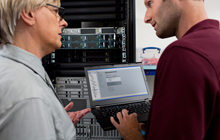 Deploying Solutions and Services
Keeping IT up and running is vital to the success of your business. You need a platform that supports automated tasks, simplified management, and flexible migrations. Our partners will work with you to understand your unique needs and select the right solutions and services for your business. View our IT solutions for your midsize business.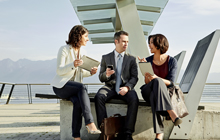 Efficiency and Cost Reduction
Your business can suffer if your infrastructure doesn't keep pace with growth. An outdated network, data center, or applications can diminish efficiency and increase security risks. Together with our partners, we can make your infrastructure more efficient and cost-effective without placing extra burdens on your IT staff.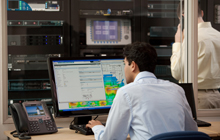 Security and Compliance
You're on the front line of protecting the data for your business, customers, partners, and employees. Our proven solutions can thwart threats, help prevent unauthorized access, manage user authentication, and simplify compliance. Our partners will work with you to perform a security assessment and select the right security offerings for your business.
Safeguard Patient Data: See how Texas Heart Institute controls network access with context-aware security. (PDF - 318 KB)