Carrier Ethernet in the Zettabyte Era
Global IP traffic is growing exponentially, bringing in the "zettabyte era." Fueling this growth are a new generation of media applications and subscriber demand for more interactivity, personalization, mobility, and control. Increasingly, you must be able to deliver any type of service, anywhere, anytime, to any device.
As a global leader in Carrier Ethernet and IP/MPLS networks, Cisco offers a comprehensive Carrier Ethernet solution that is optimized for media services. The Cisco IP Next-Generation Network (IP NGN) Carrier Ethernet design extends media-aware intelligence end to end and throughout the aggregation and access layers of the network.
The Cisco Carrier Ethernet solution provides:
Convergence to deliver residential, business, mobile, wholesale, and time-division multiplexing and ATM services over a converged packet-switched infrastructure
Resiliency for 50-millisecond core-to-premise recovery through a combination of Cisco aggregation and access solutions
Intelligence to integrate Cisco Visual Quality Experience technology and video call admission control for high-quality loss, delay, and jitter-sensitive broadcast and unicast video content
Scalability for high capacity and service density throughout the end-to-end network to meet evolving demand
Cisco IP NGN Carrier Ethernet Design
The Cisco Carrier Ethernet design in the Cisco IP NGN architecture (Figure 1) provides integrated links between service- and application-layer components. These links create a converged, intelligent, reliable, and scalable network. With the Carrier Ethernet design, you can:
Offer consistent and highly reliable transport
Deliver any type of service anywhere, to any device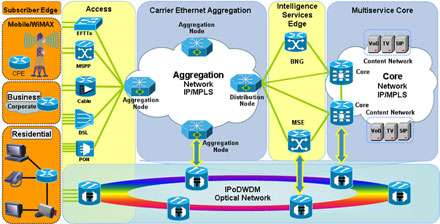 Important features and benefits of the Cisco Carrier Ethernet design include:
IP over dense wavelength-division multiplexing (IPoDWDM) from the core to the network aggregation layer, reducing network complexity and increasing capacity for video and mobile services
Carrier-class reliability with 50-millisecond recovery from core to premises, backed by network availability service-level agreements
Integrated intelligence at the service edge to support greater customer control and personalization
Integrated broadband mobility services that are adaptable for future high-bandwidth mobile applications and provide highly secure roaming and quality of service
Advanced Access Solutions
Cisco Ethernet access platforms help ensure 50-millisecond resiliency past the aggregation point and maintain end-to-end traffic visibility. The Cisco Ethernet access switches and end-to-end approach provide a complete, scalable Carrier Ethernet solution.
View Content by Industry
Related Links
Resources
Cisco Community