Building Networks That Last
See how SBA helped the Town of Los Gatos build a more future-ready network. (3:11 min)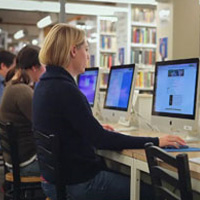 Building Networks That Last
Close

Viewing this video requires the latest version of Adobe Flash Player with JavaScript enabled.
Cisco Smart Business Architecture for Government
Government is tasked to educate, protect, and serve. Yet with multiple competing priorities, including budget constraints, data security, and citizen expectations, this can be a challenge. It is critical to deploy a systematic, thoughtful, and highly secure network approach that will:
Help ensure continuity of government
Avoid risk of downtime
Eliminate complex configurations
Avoid hardware or software faults
SBA for Government is designed to grow and evolve with your agency, providing a platform for deploying advanced technologies. Learn more about SBA for Government by reading this At-A-Glance and by viewing a video featuring Jennifer Geisler, Director of Government and Security Industry Marketing at Cisco.
About the SBA for Government System Map
Similar to a local subway map, Cisco developed the SBA system map to help convey where you are in your network journey, and the options for scaling to meet future requirements. Whether you are a midsize or large agency, we can help you achieve your networking goals with the appropriate system route and by using the prescriptive SBA guides. When leading network planning and investment discussions within your organization, use the system map as a strategic asset.
For information on Smart Business Architecture outside of the Government space, please visit http://www.cisco.com/go/sba
Borderless Networks
Cisco Borderless Networks helps to enable secure, reliable access to any resources from any location, using any device. SBA helps you transform the Borderless vision into a reality.
Borderless Networks SBA Guides for Large Agencies
Foundation Guides
Additional Design Guides
Additional Deployment Guides
Borderless Network SBA Guides for Midsize Agencies
Foundation Guides
Additional Design Guides
Additional Deployment Guides
Collaboration for Midsize Agencies
The Cisco SBA Collaboration Architecture offers a comprehensive solution that includes network infrastructure, collaboration applications, security, mobility, management applications, and support services.
Foundation Guides
Note: Please read the Unified Communications Manager Foundation Deployment Guide before downloading this tool.
Additional Deployment Guides
Data Center
Data Center for Midsize Agencies
The Cisco SBA Data Center Architecture provides prescriptive recommendations on how to deliver a resilient, flexible, and efficient network for your data center assets. It also lets you incrementally build out a best-practice architecture based on a proven and familiar foundation.
Foundation Guide
Additional Deployment Guides
For Partners
Log in to access tools and resources specifically designed for Channel Partners who want to get the most out of the Cisco Smart Business Architecture (SBA) for midsize and large agencies.
Visit the SBA for Government Archives
Below are the guides from previous releases of Cisco Smart Business Architecture (SBA) for Government. The SBA for Government archives are maintained as a convenient reference for organizations that have implemented the designs in a previous release. For new implementations, it is strongly recommend that you use the current SBA release, available on the Design Guides tab.
SBA for Government Archives
Let Us Help
Community
Related Links
General Government


Security
SBA Gov Step-by-Step Guidance
Close
Viewing this video requires Adobe Flash Player 8 with JavaScript enabled.