The Future of Video
Cisco CTO Padmasree Warrior shares her insights into the future of video. (3:01 min)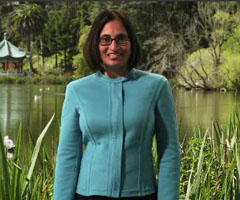 What does the future hold as video and mobile devices proliferate? What will happen when the Internet, TV, and mobile networks are unified? Cisco Chief Technology Officer, Padmasree Warrior, shares her insights on an intelligent network for video.
More on Video Anywhere

Telstra leads in innovation and customer experience using Cisco Videoscape.

Aberdeen Group study participants report 120% average quantitative ROI for video solutions.

French operator Numéricable launches new multiscreen services with Cisco Videoscape. (2:54 min)
Implementing Video Anywhere
Discover new ways to collaborate with video anytime, anywhere, on any device.
Enhance your business by extending the power of video content.
Reinvent the TV experience and make it something entirely new.
Expert Insight
Michael Lawrey
Executive Director Architecture Online, Telstra, Australia
"The content delivery network that we've deployed from Cisco is a game-changer. People want to be able to start looking at any type of content on any screen."
Cisco Video Blog
Executive Connection
Learn about video leadership and expertise at Cisco.

Senior Vice President, Emerging Business Group
Executive Bios
About Cisco
Investor Relations
Innovative Video Performance
Close
Viewing this video requires the latest version of Adobe Flash Player with JavaScript enabled.