Converge. Connect. Protect.
Protect people and property with Cisco Safety and Security Solutions
Distributed Business Intelligence
Learn the benefits of new and enhanced Cisco safety and security solutions.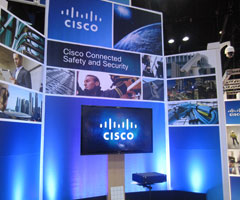 Virtualized Security Solutions
Viewing this video requires the latest version of Adobe Flash Player with JavaScript enabled.
What's New in Physical Security
Viewing this video requires the latest version of Adobe Flash Player with JavaScript enabled.
Featured Products
Video Surveillance Software

Optimize cost, performance, and capability with high-quality video surveillance solutions.

Support the transmission, monitoring, recording, and management of surveillance video
Designed for surveillance and security personnel
Flexible, standards-based solutions support a broad range of devices

Unify video surveillance, access control, and incident response with a command and control console
Get complete view of facilities, sensors, and alarms in a map-enabled GUI
Comprehensive management system with powerful workflow and business logic engine

Embedded software on video endpoints enables innovative video analysis
Classify objects, detect tampering, trigger alerts, and count people and vehicles
Analyze surveillance video in real time and improve incident response

Platforms

Improve availability, scalability, and business efficiency with solutions-led building-block platforms.

Virtualized Applications for UCS

Extend physical security capabilities to virtual environments
Ideal for large scale safety and security operations
Gain innovative virtualization, memory, I/O, and management capabilities

UCS Server

Cisco Connected Safety and Security UCS Platform Series
Next generation server family in 1-RU and 2-RU server models
Easy-to-use and easy-to-deploy configuration
Delivers significant performance, efficiency, and added density

Cisco Physical Security Multiservices Platform

Easy-to-use and easy-to-deploy server suite
Offers choices for deploying video surveillance, access control, and incident response
Provides system resilency, hardware diagnostics, and high performance

Cisco Physical Security 4RU Storage Series

Enterprise-class 4RU storage systems
Ideal for backup to disk or bulk data storage
Modular, scalable, high-density, and energy efficient

IP Cameras

Get superior performance in a wide variety of environments with high-resolution, professional digital cameras.

Access Control

Achieve electronic access control using the IP network in a comprehensive solution with hardware and software components.

Connect door hardware, locks, and readers to the IP
Provide security personnel with building-access monitoring capabilities
Scale from one to thousands of doors, at a fixed cost per door

Configure gateways and modules, monitor activity, enroll users, and integrate with IP applications and data stores
Improve security by monitoring access to buildings
Increase situational awareness with integrated Cisco Video Surveillance Manager

Incident Response

Quickly deliver valuable information to the right people in emergency situations when time is critical.

Comprehensive IP-based dispatch and incidence response solution
Ideal for public safety personnel who need to communicate with incompatible devices
Enhanced dispatch console, UHF/VHF radio interoperability, emergency first responder notification

End-to-end radio dispatching solution for mission-critical radio communications
Ideal for organizations who need to respond rapidly to incidents, emergencies, and facility events
Removes communication barriers between land mobile radio systems and devices

Smartphone application allows responders to interact with other participants
Ideal for physical security providers and emergency first responders
Complements conventional radios when situations require real-time video, pictures, and responder status
Simplify and Strengthen Security
Offer more secure BYOD access and mobility with Cisco backbone switching.
Register for Webcast
Collaborate for Campus Safety
Learn how Cisco Physical Security Solutions help protect people and assets.
Attend Webcast
A Safer Internet of Things (IoT)
Cisco is providing online and physical security for the IoT.
Learn More
Improve Campus Safety
Viewing this video requires the latest version of Adobe Flash Player with JavaScript enabled.