The Cisco SCE 1000 Series Service Control Engine is a network element specifically designed for carrier-grade deployments requiring high-capacity stateful application and session-based classification and control of application-level IP traffic per subscriber.
Superior Performance: The SCE 1000 Series provides line rate processing at 2 Gbps of traffic over 1 Gigabit links supporting 2,000,000 flows.
Stateful Deep Packet Inspection: Instead of processing packets as individual events, the SCE 1000 Series fully reconstructs flows and the Layer 7 state of each application flow.
Programmability: The SCE 1000 Series is programmable through the use of the Service Management Language (SML), providing extensible support for protocols and new revenue-generating network services.
Cisco Service Control Engine with Cisco Service Control Application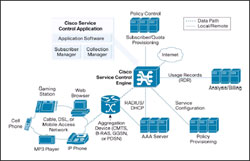 Click to Enlarge
Featured Content
Introducing Cisco Service Control Release 3.0
Cisco SCE 2000 Series Service Control Engine
Cisco Service Control Application for Broadband
Cisco Service Control Application for Mobile Networks
Related Documents