Connect to the Cloud with Confidence
Cisco Cloud Services Router 1000V brings enterprise VPN and routing to Amazon Web Services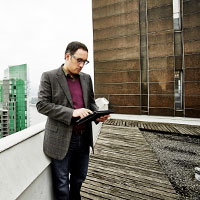 Connect to the Cloud with Confidence
Transform Your Branch Experience
The Cisco ISR Generation 2 portfolio offers intelligence and scale to transform service delivery for cloud, mobile devices, and multimedia applications.
All ISR Products
Enhance the power of your network and optimize branch services on a single platform that delivers a superior user experience with a lower TCO.
Cisco Integrated Services Router (ISR) Generation 2
Cisco Integrated Services Router Generation 1
Benefits

Cisco Integrated Services Routers Generation 2 (ISR G2) deliver the enterprise network experience through new video-ready capabilities, service virtualization, and operational excellence.
Optimal Application Experience
Extend the role of the router to an application delivery platform with Cisco Integrated Services Router with Application Experience (ISR-AX). This integrated solution is based on the Cisco ISR Generation 2, and includes Cisco Application Visibility and Control and Cisco Wide Area Application Services. ISR-AX provides application services that deliver business applications faster, reduce bandwidth costs and latency by more than 50 percent, and simplify IT management.
Video-Ready Architecture
Built for video delivery from its foundation, the ISR G2 is a medianet-compliant solution that promotes greater collaboration with comprehensive media services to branches. Services include Cisco TelePresence, video surveillance, digital signage, and scalable Cisco WebEx and desktop conferencing. The media services engine is a voice-and-video-ready digital signal processor that helps to enable these capabilities in a single module.
Service Virtualization
Cisco Services Ready Engines (SRE) provide new services flexibility, cloud extensibility, and services on demand. They decouple hardware and software so virtual services can be remotely deployed and managed, eliminating service calls.
Operational Excellence
Cisco ISR G2 delivers the greatest savings in total cost of ownership. It provides operational simplicity through:
A single universal Cisco IOS Software image
The Cisco Services Ready Engine
Cisco EnergyWise innovation
A high degree of investment protection that offers a rapid return on investment
Explore additional resources to help you find the solution best suited to your business.
What's New on Cisco ISR G2:
Improve Visibility and Control
Close

Viewing this video requires the latest version of Adobe Flash Player with JavaScript enabled.