Network Intelligence
Add network intelligence to manage application messages securely.
Pay As You Grow
Cisco 4451-X ISR helps you prepare for the future needs of your branch network.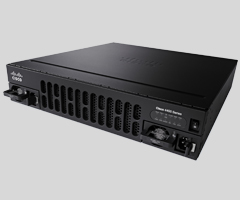 Featured Products
Virtualized load-balancing, application-delivery solution
Boosts application availability, performance, availability, and security
Automated dynamic network changes
Performance and scalability for enterprises and service providers

Software-based WAN optimization and application acceleration solution
Full appliance portfolio supporting virtual blades and scalable deployment platforms
Proven end-to-end architecture with validated design
Transparent, highly secure, and reliable LAN-like application performance
Benefits include lower TCO, improved business agility, and enhanced business continuity
Cisco ACE and VMware vCenter
Simplify operations between virtual machines and application delivery networking. (7:42 min)
Launch Demo
Cisco Validated Solutions
Architect the data center of the future today using industry leading technologies and best practices.
Learn More
Increase Bandwidth Availability
Viewing this video requires the latest version of Adobe Flash Player with JavaScript enabled.
Introducing Cisco Virtual WAAS
Viewing this video requires the latest version of Adobe Flash Player with JavaScript enabled.
Cisco ACE and VMware vCenter
Viewing this video requires the latest version of Adobe Flash Player with JavaScript enabled.