Customize Cisco VNI Data
Build a custom graph for your article, blog, or website with the Cisco VNI Forecast widget, using data from 2012 to 2017.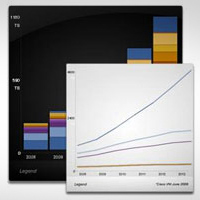 Networks are an essential part of business, education, government, and home communications. Many residential, business, and mobile IP networking trends are being driven largely by a combination of video, social networking and advanced collaboration applications, termed "visual networking."
The Cisco Visual Networking Index (VNI) is the company's ongoing effort to forecast and analyze the growth and use of IP networks worldwide.
In May 2013, Cisco released the Cisco VNI Global IP Traffic Forecast, 2012 - 2017. Highlights from the updated study include the following projections:
By 2017, there will be 3.6 billion global Internet users, up from 2.3 billion global Internet users in 2012
By 2017, there will be 19 billion networked devices globally, up from 12 billion networked devices in 2012
By 2017, average global broadband speed will grow 3.5-fold, from 11.3 Mbps (2012) to 39 Mbps (2017)
By 2017, global IP traffic will reach an annual run rate of 1.4 zettabytes, up from 523 exabytes in 2012
Resources
Cisco offers free applications and tools to help you better understand the performance of your network connection, and how you are using network resources.
Resources
Download free mobile applications for Android and iOS smartphones and tablets that let you test your cellular and Wi-Fi connections. You can keep track of your mobile data usage, and compare your network performance and usage data with global average results. Cisco also offers data visualization sites, where you can review aggregate global and regional data summaries of findings from Cisco mobile app users worldwide.
Read this official blog post to learn key takeaways from this year's VNI Mobile report.
News
Blogs
Events
VNI Global Forecast Video, May 29
See Cisco executives and panelists discuss 2012-2017 forecast findings.
Register to Watch

VNI Forecast Highlights Tool, 2012 - 2017
See global, regional, and country-level projections.
Use Tool

VNI Global IP Traffic Forecast, 2012-2017
Cisco analysts discuss IP traffic and services growth.
Watch Video

VNI Mobile Forecast Highlights Tool, 2012 - 2017
See global, regional, and country-level projections.
Use Tool

What's a Zettabyte?
Understand the value and size of IP traffic metrics.
View Chart
Join the Conversation

More Resources