Better Protection and Service
The highly secure infrastructure of the Cisco IP Next-Generation Network (IP NGN) can help you mitigate threats, enhance services, and give customers protection and confidence. (PDF - 1.3 MB)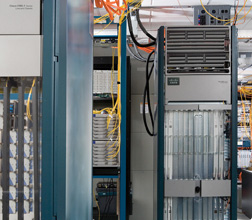 Protection with a Highly Secure Infrastructure
In today's world of sophisticated attacks, online theft, and constantly evolving Internet threats, security has become critical for all services. Increasingly, your profitability depends on your ability to maintain a highly secure infrastructure amid a broad range of threats that can disrupt network operations, including:
Distributed-denial-of-service (DDoS) attacks
Application vulnerability exploits
Phishing and virus attacks
Email spam
You need highly secure infrastructure solutions that eliminate windows of vulnerability, speed up response times, and proactively block threats.
The Cisco IP NGN offers a comprehensive suite of Cisco IOS Security features and services that are embedded in your network elements, creating a highly secure infrastructure. These solutions help ensure continuous network and service availability, and protect your customers and your profitability. Cisco highly secure infrastructure solutions:
Rapidly identify and isolate an attack
Quickly pinpoint the source of an attack
Lock down the processors by tightly controlling traffic forwarding
Protect services by helping to ensure that high-priority traffic always has adequate bandwidth
Comprehensive Highly Secure Infrastructure
Cisco highly secure infrastructure solutions extend across all layers of your network and through service delivery.
The two main elements of this solution include:
Data plane security for in-depth protection of customer data and traffic through features such as:

Access control lists (ACLs)
Quality-of-service (QoS) policies
Unicast Reverse Path Forwarding
IPv4 options handling
IPv6 extension headers
Flexible packet matching
Remote-triggered black-hole filtering

Control plane security which protects the routing and control plane through:

Receive ACLs
Control plane policing
Local packet transport services
Selective packet discard
Routing protocol security

Management plane security, for highly secure management of the network infrastructure through:

NetFlow analysis
Network management and discovery protocols
In-depth logging and analysis
Authentication, authorization, and accounting
IP source tracker

Service delivery that encompasses special handling and consideration by the network infrastructure for security services such as QoS and encryption
Security Products
Protect Each Network Layer
Cisco IOS Network Foundation Protection (NFP) helps you protect your network control plane, data plane, and devices.
Manage Your Network Tasks
Cisco IOS NetFlow provides IP application services such as traffic accounting, usage-based billing, network planning, security, and monitoring to protect your network.
Protect Your Entire Network
The Cisco Intrusion Prevention System protects your entire network as an inline, network-based defense solution that identifies, classifies, and stops known and unknown threats.
Stop Attacks Before They Affect Service
Cisco ASA 5500 Series Adaptive Security Appliances help you stop attacks before they affect your customers or your service, while lowering deployment and operations costs.
Security Components
Employ Built-In Network Security
Comprehensive network security built into your infrastructure helps your business quickly respond to emerging threats and collaborate with confidence.
Detect Attacks in Real Time
The Cisco Catalyst 6500/Cisco 7600 Router Traffic Anomaly Detector Module protects your network and your customers by detecting DDoS attacks in real time.
Block Malicious Traffic and Keep Operating
The integrated Cisco Catalyst 6500/Cisco 7600 Router Anomaly Guard Module blocks malicious traffic without compromising your mission-critical and revenue-bearing operations.
White Papers
(4)
Cisco IOS NetFlow
(PDF - 99 KB)
Infrastructure Security on the Sprint End-to-End Cisco Network
(PDF - 2 MB)
IP Next-Generation Network Security for Service Providers
(PDF - 1 MB)
NetFlow Performance Analysis
(PDF - 260 KB)