Offer Next-Generation Services
Learn how the Cisco ASR 1000 Series Aggregation Services Router can help transform your network to deliver a new generation of media services.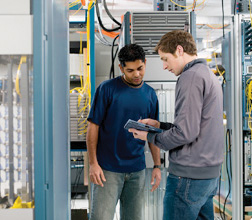 Intelligent Broadband Solutions
With increasing subscriber demand for new Internet and video applications, you need more intelligent, scalable broadband solutions. You need a medianet, an intelligent network that is optimized for media services, from the core network to the subscriber premises.
As a global leader in Ethernet and IP/MPLS networks, Cisco offers comprehensive broadband aggregation solutions built on a Carrier Ethernet design that is optimized for media services. This design converges residential, business, and mobile services over a single packet-switched infrastructure.
The architecture of Cisco broadband solutions also provides advanced subscriber intelligence and policy control, as well as the end-to-end resiliency and scalability you need to deliver triple-play services.
Broadband Solutions for DSL Aggregation
Worldwide broadband DSL access is growing. As you continue to scale your broadband offerings, you must find ways to simplify operations and increase subscriber intelligence. Cisco broadband solutions deliver:
Industry-leading capacity and scalability
Simplified operations, with comprehensive management and provisioning
Proven carrier-class availability
Comprehensive IP/MPLS features
Together, these capabilities help you deploy broadband services more quickly and cost-effectively.
Cisco IP Next-Generation Network
We build our broadband solutions on a Cisco IP Next-Generation Network (IP NGN) Carrier Ethernet design. Business, residential, wholesale, and managed services easily integrate over a converged IP/MPLS infrastructure. With our broadband solutions, you can:
Offer consistent and highly reliable transport of "any-play" services as part of an end-to-end medianet
Deliver any type of service anywhere, to any device
The Cisco Carrier Ethernet design in our broadband solutions provides integrated links between service and application-layer components to create a converged, intelligent, reliable, and scalable network.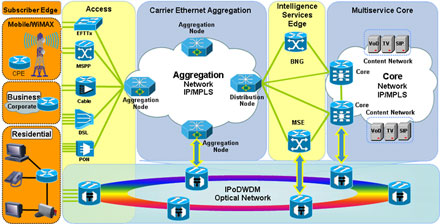 Cisco IP NGN Carrier Ethernet Design
Click to enlarge image
Important features and benefits of Cisco broadband solutions include:
IP over dense wavelength-division multiplexing (IPoDWDM) from the core to the network aggregation layer to reduce network complexity and increase capacity as modern video and mobile services demand
Carrier-class reliability with 50-millisecond recovery from core to premises, backed by network availability service-level agreements
Integrated intelligence at the service edge to support greater customer control and personalization
Integrated broadband mobility services that are adaptable for future high-bandwidth mobile applications and provide easy, highly secure roaming and quality of service
Deliver Access While Improving Efficiency
Cisco 10000 Series Routers deliver subscriber awareness for triple-play, broadband, and wholesale access; improve operational efficiency; and facilitate new services deployment.
Optimize Return on Network Investment
Cisco 7600 Series Routers help you deliver both consumer and business services over a single, converged Carrier Ethernet network.
Transform the Network Edge
Cisco ASR 1000 Series Aggregation Services Routers provide exceptional performance, service capabilities, reliability, and efficiencies in a compact form factor.
Increase Speed and Capacity at the WAN Edge
The Cisco ASR 1013 offers twice the bandwidth and capacity of earlier Cisco ASR 1000 Series routers, supporting even the most demanding media applications.
Optimize Services Transport Routers
Cisco ASR 9000 Series Aggregation Services Routers offer scalability, modular power, and integrated IPoDWDM optimized for Carrier Ethernet, video, and mobile services transport.