Top Ranking in Data Center Security
Surveyed IT decision-makers choose Cisco as the top data center security supplier.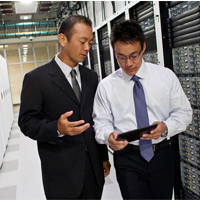 Top Ranking in Data Center Security
Security Across Hybrid Networks
Close
Viewing this video requires the latest version of Adobe Flash Player with JavaScript enabled.
Cost-Effectively Improve Security
Forrester shows how to improve ROI with Cisco Secure Data Center Solution.
Learn More
Cisco Data Center Security offers the following key benefits:
Ease of Provisioning
Cisco takes the deployment of new, highly secure services from weeks to hours. Take full advantage of the benefits of the Cisco ASA 5585-X Adaptive Security Appliance and Security Group Tags and reduce manual firewall rule policy management.
Maximum Performance
Get eight times the performance compared to competitive firewalls. Experience enhanced availability and resilience through shared virtual port channel and Cisco FabricPath innovations with Cisco Nexus 7000 Switches.
Actionable Security
Extend a chain of trust from the user to the application through Security Group Tags. Threats are blocked before they can disrupt data center services through Cisco Intrusion Prevention System (IPS) solutions.
Cisco Data Center Security Products
Extensive testing has proven that Cisco data center solutions meet the design reliability and stability requirements for highly secure data centers, virtual data centers, and private clouds.
Cisco Virtual Multi-Service Data Center (VMDC) helps secure the Cisco Unified Data Center (UDC), which hosts mission-critical applications and sensitive data. Cisco UDC improves the economics of the data center by unifying computing, storage, networking, virtualization, and management into a single, fabric-based platform. This platform is designed to:
Increase operating efficiencies
Simplify IT operations
Provide business agility
Tightly integrated with UDC are security controls provided by:
Market-leading firewall
VPN
Hardware-accelerated intrusion prevention system (IPS)
Appliances and applications for the virtual and multi-tenant environment
This VMDC environment is intuitive, powerful, and highly secure. It provides superior, real-time protection for critical information assets. A Cisco VMDC for data center design guide can help you get started.
Design Guides
For Partners
Log in to access tools and resources.
Q&A
(1)
Solution Overviews
(1)
White Papers
(5)
Case Studies
(1)