Address the App Gap
Experts and customers share benefits from new application experience platforms.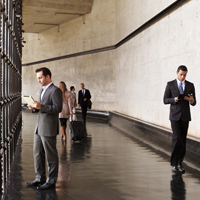 Address the App Gap
Deliver an Optimal Application Experience
Deploy Applications Faster
Simplify and speed delivery of your applications with Cisco ISR-Application Experience (AX). (3:02 min)
Watch Video
Learn the Benefits of ISR-AX
Read this short overview to find out how ISR-AX can help your enterprise. (PDF - 416 KB)
Read At-a-Glance
Optimize Application Delivery
Improve collaboration and control with application-centric networking. (PDF - 220 KB)
Read White Paper
Extend the role of the router to an application delivery platform with Cisco Integrated Services Router with Application Experience (ISR-AX). This integrated solution is based on the Cisco ISR Generation 2 and includes Cisco Application Visibility and Control and Cisco Wide Area Application Services. ISR-AX provides application services that:
Deliver business applications faster
Reduce bandwidth costs and latency by more than 50 percent
Simplify IT management
In addition, Cisco ISR-AX:
Delivers exceptional user experiences by meeting application-specific requirements
Helps securely connect users to applications deployed anywhere at scale
Provides application-level visibility and control of all passing traffic without probes
Validates application response time and network readiness
Cisco ISR-AX offers a powerful suite of application services at up to 30 percent lower cost than standalone WAN appliances. It also provides more capabilities, such as:
Networkwide visibility to over 1000 applications
Granular control on application prioritization and path control
Enterprise-class optimization that increases application performance up to 70 percent
Industry-leading security services including VPN and threat defense
With the option to add Cisco UCS E-Series products and Cisco Cloud Connectors, you can build a complete virtualized application platform in one router.

The ISR-AX is available on Cisco 3900, 2900, and 1900 Series Integrated Services Routers and includes:
At-a-Glance
(1)
Q&A
(1)
White Papers
(2)
Case Studies
(6)
Relevant Products
Find details about hardware devices, software applications, and specialized components that relate to your networking solution.