Accelerate Service Velocity
Use a modular, automated approach to join people, processes, and products.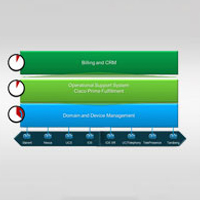 Easily Manage End-to-End Service Fulfillment
Cisco Prime OSS solutions promote efficient coordination of business and operational processes for service design, creation, and delivery across multiple network domains.
Cisco Prime Order Fulfillment
Cisco Prime Fulfillment is provided in three different offerings, depending on your business needs.
Offered as a single package, Cisco Prime Order Fulfillment provides three essential capabilities, including:
Cisco Prime Active Catalog

Cisco Prime Active Catalog is a platform for service creation, product lifecycle management, and process orchestration. It supports third-party platforms.

Cisco Prime Order Management

This product orchestrates, monitors, and controls all the detailed order processes that are part of the customer service fulfillment cycle.

Cisco Prime Service Inventory

This product manages all the resources that you need for successful service delivery and network operations, from customer handsets and devices to access and core network equipment.
Cisco Prime Active Catalog
As an individual offering, Cisco Prime Active Catalog provides product lifecycle management and cross-domain orchestration across existing service delivery systems.
Cisco Prime Provisioning
Cisco Prime Provisioning performs quick service activation through automated provisioning and complements Cisco Prime Order Fulfillment and Cisco Prime Active Catalog.