Deliver More TV at a Lower Cost
Use existing infrastructure to create an entertainment hub for the home.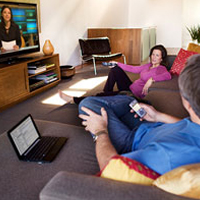 Create a Personal Home Entertainment Hub
To stay competitive, regional pay-TV providers need to deliver more dynamic video experiences to multiple screens. But they also need to capitalize on their existing video infrastructure investment and keep costs low. Now they can do it all.
The Cisco Videoscape Connected Video Gateway Offer provides a cost-effective platform to unleash a new generation of interactive video experiences in the subscriber home. It lets you distribute video content, metadata, and next-generation user experiences to devices across the home network through a single entertainment hub.
With the Cisco Videoscape Connected Video Gateway Offer, you can:
Use existing infrastructure to deliver live and on-demand content to homes
Leverage customers' existing home networks to extend your service to multiple consumer devices
Provide advanced and dynamic multiscreen experiences to increase subscriber loyalty
Manage content, UIs, and metadata for all devices-TVs, tablets, game consoles, and more-from a centralized, managed platform
Remotely monitor and troubleshoot all devices in the home, without having to dispatch technicians
Measure and monitor service usage to personalize the experience and improve quality
Extend both traditional video and IP services across devices throughout the home
Migrate to more advanced IP services in the future without having to add new equipment in the home
At the same time, your subscribers can:
Watch linear, on-demand, and time-shifted content on any screen in the home
Easily find content across all content sources and devices with unified search and personalized recommendations
View contextual web content on companion devices for a more immersive TV experience
Pause live TV on one screen and continue watching on another
Use social TV applications to share and engage with the content they love
View home videos, photos, and other content in the home network on the TV
To learn more, read the solution overview, "Cisco Videoscape Unity: Connecting Experiences. Your Way"