Simple, Efficient, Scalable
Get a bundled infrastructure solution for small and midsize businesses from Cisco and NetApp.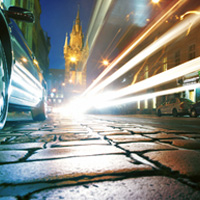 Are you a growing small and midsize organization beginning to virtualize your networking, storage, and computing environments? ExpressPod is a prepackaged and tested solution bundle that is integrated and delivered by joint channel partners.
ExpressPod integrates Cisco Unified Computing System (UCS) C-Series servers, NetApp FAS2220 or FAS2240 storage, Cisco Nexus 3048 switches, and infrastructure management. Cooperative support makes it an affordable, easy-to-deploy infrastructure solution.
In-Depth Explanation of ExpressPod
Explore key benefits, core components, and the cooperative support model for the solution. (PDF - 534.27 KB)
ExpressPod delivers benefits based on three main concepts:
Start Right
Get a low-cost, easy-to-deploy solution. ExpressPod is tested and documented by Cisco and NetApp. It includes an implementation guide to facilitate integrating the solution with your existing data center environment. The implementation guide includes:
Detailed deployment instructions
Wiring diagrams
Bill of materials
High-level sizing guidance
Keep It Simple
ExpressPod delivers the built-in system efficiencies of Cisco Unified Computing System (UCS) servers, Cisco Nexus switching, and NetApp FAS storage.
Fewer IT resources are needed to manage a pool of server, network, and storage systems in a virtualized infrastructure. This streamlined solution also reduces the number of devices that you need to purchase, cable, and power.
Grow Smart
Protect your investment in equipment and training. The ExpressPod solution maintains a consistent operational environment as you grow. Scale up by adding components, or scale out with a standardized platform to predict budgets and growth more easily.
For Partners
Log in to access tools and resources specifically designed for Channel Partners who want to get the most out of the Cisco ExpressPod.