Deploy a Private Cloud in Hours, Not Days
FlexPod is now validated for Microsoft Private Cloud Fast Track 2.0.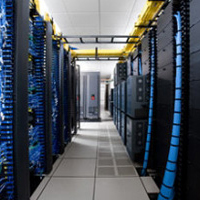 Deploy a Private Cloud in Hours, Not Days
FlexPod is a pre-designed and pre-validated base data center configuration. It is built on Cisco Unified Computing System, Cisco Nexus data center switches, NetApp FAS storage components, and a range of software infrastructure options from our partner ecosystem.
Entry-Level FlexPod Solution
Explore the efficient configuration options for smaller-business data centers.
Read Data Sheet
A Transformational Partnership
Cisco and NetApp leaders explain what their partnership means for customers. (3:10 min)
Watch Video
FlexPod with Microsoft Private Cloud
Read this overview and reference architecture to learn how to reap the full benefits. (PDF - 1.9 MB)
Download Now
The FlexPod platform is the result of Cisco and NetApp collaborating with operating system, hypervisor, and application technology providers.
Use Cases
You can scale FlexPod up for greater performance and capacity, or scale it out for environments that need consistent, multiple deployments. You can also size and optimize FlexPod to accommodate different use cases, including application workloads such as:
Microsoft SQL Server
Microsoft Exchange 2010
Microsoft SharePoint
Virtual desktop infrastructure (Citrix XENDesktop, VMware View)
Secure multitenancy (SMT) environments
Key Benefits
FlexPod is built on leading computing, networking, storage, and infrastructure software components. It provides an ideal virtualized data center solution with:
Validated technologies from industry leaders in computing, storage, networking, and server virtualization
One platform built from unified compute, fabric, and storage technologies, with popular and trusted software virtualization
Integrated components that help enable you to centrally manage all your infrastructure pools
An open design management framework that integrates with your existing third-party infrastructure management solutions
The Cisco UCS Manager performs the critical role of abstracting hardware components into service templates that simplify FlexPod configuration and greatly facilitate operations management.

Get Details
The FlexPod overview describes the major components of the FlexPod program in more detail. Additional perspectives are included in the solutions brief.
For a concise description of the FlexPod elements, see:
FlexPod and Cisco Validated Designs
Cisco Validated Designs can help you deploy FlexPod platforms in a wide range of operating environments. Use these proven designs and best practices to help ensure rapid deployment and superior performance for mission-critical workloads.
FlexPod Platform
These guides document the requirements for supporting industry-leading hypervisors and system management tools on FlexPod.
FlexPod for Virtual Experience Infrastructure (VXI)
FlexPod provides platform support for virtual desktop deployments across the globe. The following design guides can help you configure industry-leading VXI solutions on a variety of FlexPod configurations.
Applications on FlexPod
Workloads ranging from Microsoft Exchange, Microsoft Private Cloud, VMWare vSphere, SAP and Oracle applications are validated over FlexPod and documented in these Cisco Validated Designs.
Other Reference Guides
Management partners provide infrastructure management and orchestration capabilities to FlexPod, helping enterprises to create FlexPod-based private clouds.
Technology partners deliver key hypervisor, operating system, and application workloads to FlexPod. Taken together, these validated technologies support a growing list of requirements for private cloud implementations.
Management Partners
Cloupia

Cloupia provides single-click infrastructure provisioning of FlexPod, so you can begin FlexPod resource deployments, monitoring and analytics, and management within a few hours.

CA Technologies

CA Technologies validated management solutions provide customers peace of mind when using CA Technologies solutions to help provision, orchestrate, automate and manage their FlexPod environment.

Gale Technologies

The GaleForce Turnkey Cloud Solution for FlexPod is a complete, end-to-end automation system that manages and provisions the entire FlexPod infrastructure stack for both physical and virtual resources, spanning across the compute, network, and storage domains.
Technology Partners
Additional Resources
For Partners
Log in to access tools and resources specifically designed for Partners.