IPv6 Cloud Megatest Results
Hear about the impact of high performance IPv6 in Cloud Networks. (Video 3:13 min)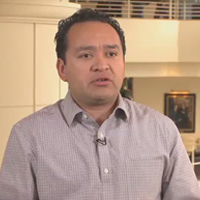 IPv6 Cloud Megatest Results
Viewing this video requires the latest version of Adobe Flash Player with JavaScript enabled.
IPv6 Trends and Industry Progress
Viewing this video requires the latest version of Adobe Flash Player with JavaScript enabled.
Telecom Argentina Builds CGv6 Network
Viewing this video requires the latest version of Adobe Flash Player with JavaScript enabled.
Welcome to the Future of the Internet
As we near the date when the last IPv4 address is assigned to a new subscriber at the regional level (RIR), service providers must maintain and continue to accelerate growth. Billions of new devices such as mobile phones, portable multimedia devices, sensors, and controllers will demand Internet connectivity in the next five years.
The Cisco Carrier-Grade IPv6 Solution (CGv6) is designed to help address these challenges. With Cisco CGv6, you can:
Preserve investments in IPv4 infrastructure, assets, and delivery models
Prepare for the smooth, incremental transition to IPv6 services that are interoperable with IPv4
Prosper through accelerated subscriber, device, and service growth that are enabled by the efficiencies that IPv6 can deliver
Cisco CGv6 extends the already wide array of IPv6 platforms, solutions, and services. Cisco SP IPv6 portfolio includes Carrier-Grade Services Engine (CGSE) for the CRS family, as well as new features for the ASR family and dual stack support on SP product families. Cisco CGv6 helps you build a bridge to the future of the Internet with IPv6.
Cisco Services for IPv6
To meet the threat of IP address exhaustion, Cisco Advanced Services developed a service solution to help customers meet this challenge and smoothly integrate IPv6 into their environments.
Learn More
The Power of 6
Learn why and how to prepare for an IPv6 transition.
Watch Video
Cisco Services for CGv6
Adopt IPv6 in a controlled, safe, and cost-effective manner, thereby reducing risk to the business. Services are available to help across all phases of the network lifecycle - from initial planning and audits through deploying, operating, and optimizing along with program management.
Cisco Strategy and Analysis Service for IPv6 to explore IPv6 benefits and challenges for your IT infrastructure
Cisco Assessment Service for IPv6 Device Readiness to determine IPv6 readiness and devices that need to be upgraded
Cisco Assessment Servicefor IPv6 Architecture to create a strategy for transitioning your current network to IPv6
Cisco Plan and Build Service for IPv6 to review and refine assessment results and develop designs for a smooth transition
Cisco Validation & Deployment Services for IPv6 to validate design and offer consulting at each stage of network implementation
Cisco Network Optimization Service helps you continuously absorb, manage, and scale IPv6 in your environment
Additional Resources
Brochures
(4)
Presentations
(7)
Press Coverage
(6)
Solution Overviews
(1)
White Papers
(2)
Relevant Products
Find details about hardware devices, software applications, and specialized components that relate to your networking solution.
Relevant Solutions