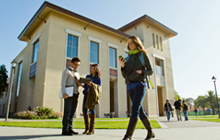 Leading the Way with Lecture-Capture Technology
Challenge
As a major educational institution, San Jose State University (SJSU) must remain innovative while improving the learning experience for students on and off campus. The university sought to:
Provide next-generation learning experiences
Distinguish SJSU worldwide as visionary educational institution
Improve educational outcomes for students on and off campus
Solutions
Cisco Capture, Transform, Share enterprise video platform
Results
Helps students review classroom material on demand
Increases off-campus participation in lecture-based courses without adversely affecting the classroom experience
Adds value with a customized solution designed by Vyopta
---
Never before...has technology provided such important challenges and opportunities. We must reinvent teaching, learning, and education delivery systems.
President, San Jose State University