Unlock Your Cloud's Potential
Learn how to architect a foundation today for tomorrow's cloud with Cisco UCS. (1:04 min)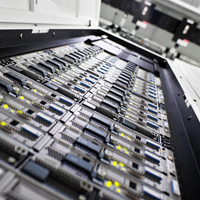 Unlock Your Cloud's Potential
Increase performance, energy efficiency, and flexibility for demanding virtualized and nonvirtualized applications
Adapt processor performance to application demands and scale energy use based on need
Use network adapters for consolidated access to the unified fabric
Reduce the number of adapters, cables, and access-layer switches needed for LAN and SAN connectivity

Help reduce the total cost of ownership (TCO) and increase business agility
Balance simplicity, performance, and density for production-level virtualization, web infrastructure, and data center workloads
Extend unified computing innovations and benefits to rack-mounted servers with Cisco Extended Memory and Virtual Interface Card technologies
All Products
Cisco servers range from stand-alone, rack-mount, entry-level models to Cisco Unified Computing System (UCS) servers that are integrated into a complete data center platform.
Cisco UCS B-Series Blade Servers
Cisco UCS C-Series Rack Servers
Innovative, Advanced Technologies
Cisco Unified Computing System (UCS) combines industry-standard servers with networking and storage access into a single converged data center platform. This cohesive system helps you match computing needs and costs to business needs and budgets.
Cisco servers for UCS have x86 architecture, are powered by Intel Xeon processors, and are available in both rack-mount (C-Series) and blade (B-Series) form factors. They provide the following benefits:
Increased capacity: Cisco Extended Memory technology offers more than twice as much memory (1 TB) as traditional two-socket servers.
Simplified operations: Cisco Virtual Machine Fabric Extender (VM-FEX) collapses virtual and physical networking into a single infrastructure.
Industry-leading performance for mission-critical workloads: Cisco servers for UCS have set over 50 world-record benchmarks.
Improved scalability and agility without added complexity: The system offers less complexity, more flexibility, and lower costs than traditional approaches.
Unsurpassed innovation: Cisco UCS technologies create simplicity rather than complexity, for high-performance, programmable, self-integrating IT.
Additional Resources
Featured Case Study
Travelport saves time, cost, and resources with Cisco Unified Computing System and Cisco Nexus Series Switches.

Walz Group builds a centrally managed cloud network with integrated solutions.
Cisco Servers for UCS Change the Industry Landscape
In only two years, demand for data center innovation moved Cisco servers for UCS to the top of the fast-growing x86 blade server market.
At a Glance
The Impact of Innovation
Cisco Unified Computing System adoption is changing the server industry landscape.
See the Number
See Awards
IDC: Cisco UCS Gains Market Share
Cisco surpasses long-standing incumbents in the x86 blade server market.
Learn More
Cisco UCS Proves Leadership
Cisco UCS delivers record-breaking application performance.
View Benchmarks
Higher Performance at Lower Cost
Hear why Peninsula Regional Medical Center and Consert chose Cisco UCS.
Watch Videos
Cisco UCS by the Numbers
Close
Viewing this video requires the latest version of Adobe Flash Player with JavaScript enabled.