Benefits of Improving Business Collaboration
Collaboration is more than a technical architecture, solution, or product. It is the experience that integrates people, processes, and technology. We believe that by working together, people can achieve extraordinary things.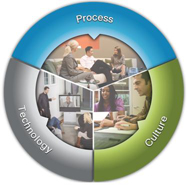 An organizational chart may show hierarchy, but it doesn't represent real business collaboration—how people actually interact inside, outside, and across the organization. Finding ways to improve the connections between people and the information they need to share is critical to improving business.
Empower, Engage, Innovate
The goal—and the power—of collaboration technology is to help people share as naturally as possible. How do you get there?
Empower people to work their way—where, when, and how they want—without limits
Engage people by providing the best collaboration tools to connect with peers and other organizations
Help people innovate to develop ideas and solve problems
People don't want to have to think about how to do something, just about what they want to do.
The New Collaborative Environment
Opportunity comes from the combination of technology and people. The collaborative workspace environment gives people the flexibility to be where they need to be to do the best work they can.
Cisco uses an architectural approach, integrating mobility, video, and cloud to bring people together anytime, anywhere, on any device. Connect employees, customers, and suppliers to make decisions, resolve customer issues, or address supply-chain challenges. The architecture cost-effectively supports scalability, security, and accessibility. The Cisco collaboration strategy and architecture account for not only the technology, but also for what it means to your processes and culture.
Implement collaboration solutions to:
Flatten organizational hierarchy and better communicate with all levels of the organization
Elevate and personalize communications to improve the quality and speed of decisions
Save time, simplify workflows, and increase workforce interaction and productivity
Build trust and understanding across time zones and within teams through video communications
Improve customer responsiveness by facilitating faster access to experts and information
In addition to productivity improvements, these solutions can help you reduce travel, real-estate costs, and greenhouse gas emissions by supporting virtual meetings and telecommuting.
Resources
Infographics
Cloud Collaboration
Ever Wonder What Type of Collaborator You Are?
Take Our Quiz to Find Out
Take Quiz
Reach Business Goals
Learn new ways to use collaboration technology to support your business goals.
Explore Use Cases
Collaborate without Compromise
Work is more interconnected than ever before. Make it simple for employees to collaborate. (PDF - 468 KB)
Read Solution Overview