The Heart of a City
Hamburg Port Authority creates one network for water, roads, and rail. (5:35 min)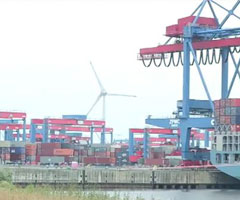 The Heart of a City
Close
Viewing this video requires the latest version of Adobe Flash Player with JavaScript enabled.
Any port authority must ensure that every container stays in motion whether on the waters, roads, or rail systems. To that end, the Hamburg Port Authority unified four previously separate network infrastructures and became much more efficient.
CIO Dr. Sabastian Saxe describes how his team lowered operation and management costs and gained a more powerful network. The team's initial skepticism was transformed into a willingness to cooperate. Curiosity to experiment and design more efficient processes came to characterize this e-government award-winning project.
More on Innovative Transportation

Learn how Athens International Airport improves service to airlines and passengers.
(PDF - 240 KB)

Bombardier focuses on improving agility and customer service.
(PDF - 298 KB)

Cisco helped a number of public sector organizations improve operational efficiency. (PDF - 7.25 MB)
Implementing Innovative Transportation
Learn how technology is being used to transform government in the 21st century.
Learn how a mobile experience "your way" doesn't need to compromise the way of business.
Cisco offerings help transportation companies increase operational efficiency, gain a competitive edge, and ensure safety.
Expert Insight
Dr. Sabastian Saxe
Chief Information Office, Hamburg Port Authority
"These technical capabilities have created new possibilities that weren't available before."
Cisco Blogs
Executive Connection
Learn about innovation leadership and expertise at Cisco.

Executive Vice President, Emerging Solutions & Chief Globalization Officer
Executive Bios
About Cisco
Investor Relations