Access Data in a Mobile Universe
See surprising findings from this Economist Intelligence Unit research report. (3:29 min)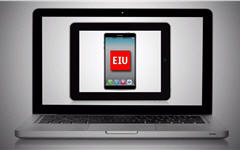 Executives want access to data anywhere, at any time. However, given the explosion of mobile devices, increasing access to data presents business risks as well as technological and cultural challenges.
The Economist Intelligence Unit surveyed 578 global executives on mobile data access trends, and identifies challenges decision makers face in planning for this new, mobile universe. Download Report. (PDF - 539 KB)
More on Planning for a Mobile Universe

Find valuable new insights in this Cisco IBSG Horizons Study. (PDF - 2.55 MB)

This report explains why it's critical to choose the right mobility solutions. (10:46 min)
Read Report >

Re-imagine healthcare with the right collaboration and network solutions. (4:20 min)
Implementing a Mobile Universe Plan
Give people technology needed to collaborate-when, where, and how they need it.
Deliver mobile experiences on more devices with a Cisco Intelligent Network.
Achieve consistent security and simplify operations across the entire network.
Access Data in a Mobile Universe
Viewing this video requires the latest version of Adobe Flash Player with JavaScript enabled.
Define the Future of Work
Viewing this video requires the latest version of Adobe Flash Player with JavaScript enabled.
Hospital of the Future
Viewing this video requires the latest version of Adobe Flash Player with JavaScript enabled.
Expert Insight
Economist Intelligence Unit
"Forty-two percent of respondents said the C-suite needs secure and timely access to strategic planning data to be most productive, yet only 28% believe it is appropriate to make this data accessible to it on mobile devices."
Executive Connection

Vice President, Collaboration Marketing
Executive Bios
About Cisco
Investor Relations