Connecting a University
Wake Forest uses mobility and collaboration technologies to transform learning. (2:38 min)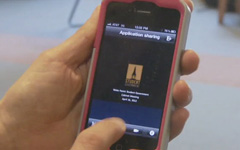 The rapid evolution of mobile technology has changed the workspace. The focus is often on devices, but the true value is in what they make possible -- from competitive differentiation and growth through an "any device" strategy to new opportunities offered by greater flexibility and business agility.
More on a Mobile Experience, Your Way

See how mobile devices enable a new workspace model and people-centric collaboration. (PDF - 848 KB)

Optimize the experience for diverse users with multiple devices, anytime, anywhere. (PDF - 274 KB)

Learn the steps and business decisions behind Cisco's productive, highly secure BYOD environment. (PDF - 1.2 MB)
Implementing a Mobile Experience, Your Way
Achieve consistent security and simplify operations across the entire network, no matter what devices are connected.
Allow people to be their most effective by providing the best possible collaboration experience -- anywhere, on any device.
Provide an exceptionally flexible and secure workspace for an uncompromised user experience with Virtualization Experience Infrastructure (VXI).
The Proliferation of Devices
Close
Viewing this video requires the latest version of Adobe Flash Player with JavaScript enabled.
Connecting a University
Close
Viewing this video requires the latest version of Adobe Flash Player with JavaScript enabled.
Expert Insight
Mike Fitzgerald
Managing Director, Eagle Investments
"We have unlocked our capabilities to collaborate and provide information from any device, anytime, anywhere."
Executive Connection
Learn about multiple devices and BYOD expertise at Cisco. (3:31 min)

Vice President, IT Customer Strategy & Success
Executive Bios
About Cisco
Investor Relations