Quick Questionnaire: Working on a Handheld
What do you want to see on your mobile device?
Help us give you the content you need to do your job -- in the format you prefer. Answer eight quick questions on our mobile usage survey and we'll do the rest.
No Thanks.
Accelerate Application Development
Cisco Nexus 9000 switches and new optics support cost-effective 40 GE.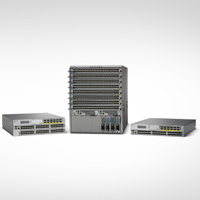 Provides the switching foundation for Cisco Application Centric Infrastructure (ACI)
Supports up to 1.92 terabits switching capacity per slot
Delivers high-density 1,10, and 40 Gigabit Ethernet today, and is 100 GE ready
Operates in standard Cisco NX-OS as well as in ACI mode
Offers full virtual extensible LAN (VXLAN) bridging, routing, and gateway support

Cisco Nexus 7000 Series Switches

Offers highest switching capacity; up to 1.3 terabits per slot, 83+ terabits per chassis
Provides high 1,10, 40, and 100 Gigabit Ethernet scalability
Offers the industry's most comprehensive data center feature set
Delivers advanced services; high availability; hitless In-Service Software Upgrade (ISSU)
Is ideal for data center access, aggregation, and core deployments

Cisco Nexus 6000 Series Switches

Deploy up to 96 40 GE ports or 384 10 GE ports in a small four rack-unit (RU) form factor
Delivers comprehensive integrated Layer 2 and 3 functionality at line rate and low latency
Improves efficiency with Cisco Fabric Extender (FEX) architecture support and a comprehensive analytics tool kit
Supports 40 GE FCoE for LAN and SAN convergence
Is ideal for access and space constrained aggregation deployments

Cisco Nexus 5000 Series Switches

Increases agility with faster, more pervasive data center virtualization
Broad connectivity support including GE, 10 GE, 10GBase-T, 40 GE, FC and FCoE
Supports comprehensive Layer 2 and 3 features for LAN and SAN traffic
Enhances business resilience through greater operational continuity

Cisco Nexus 4000 Series Switches

Reduces number of switches, network interface cards, and power requirements
Purpose-built with Unified Switch ASIC [Line-rate, extremely low-latency 10 Gigabit Ethernet switch

Cisco Nexus 3000 Series Switches

Delivers flexibility and performance for top-of-rack deployments
Offers Cisco Algo Boost capabilities with superior low latency, visibility, and control
Simplifies management with Python scripting, Energy Efficient Ethernet (EEM), and XML management tools
Increases business agility with a comprehensive software-defined networking (SDN) solution, including OpenFlow and Cisco OnePK

Cisco Nexus 2000 Series Fabric Extenders

Fabric extensibility with single point of management
Provides 100 MB, 1 GE, to 10 GE server connectivity with 10 GE and 40 GE uplinks
Reduces data center cabling costs and footprint, optimizes inter-rack cabling
Extends to partner blade servers such as HP and Fujitsu

Cisco Nexus 1000V Switch

Integrates directly with server hypervisors
Delivers virtual machine-aware network services such as VM mobility in cloud environments
Accelerates server virtualization deployments and simplifies management
Reduces total cost of ownership; provides consistency and network visibility

Cisco Catalyst 6500 Series Switches

Provides investment protection for traditional data centers
Delivers enhanced operational management, high availability
Simplifies infrastructure and adopts pervasive network security
All Products
The Cisco Nexus and Catalyst families of switches are designed to meet the stringent requirements of the next-generation data center.
Cisco Nexus Services
Quickly and efficiently integrate new data center solutions and technologies. Whether your business goal is data center consolidation or build-out, business continuity, or improved regulatory compliance, Cisco Nexus Services help accelerate your transition to a highly scalable Nexus platform.
Building a Centralized Data Center
King County simplifies network management and increases government agility with help from Cisco Services. (PDF - 96 KB)
Read Services Case Study
The Cisco Nexus family of products provides a wide range of business benefits.
Simplified
Improve efficiency, simplify mobility for physical and virtual machines and services, and provide end-to-end visibility for any topology.
Significantly speed up workload delivery for both physical and virtual rollouts with network automation and provisioning, and better integration with orchestration, automation tools, and cloud platforms.
Make troubleshooting easier with centralized fabric management across physical and virtual workloads.
Convergence
Cisco Nexus solutions simplify the data center network by converging LANs and SANs, and by using Data Center Bridging (DCB), Fibre Channel over Ethernet (FCoE) protocols, and Unified Ports.
Lower total cost of ownership by up to 50 percent
Reduce capital expenses through fewer host adapters, switches, and cables
Cut operational expenses through reduced power, cooling, rack space, and floor space requirements
Adopt solutions incrementally, without a complete upgrade
Reduce disruptions to existing management and operations
Scalability
Cisco Nexus solutions help enterprises scale for the more-complex workloads of virtualization, the proliferation of virtual machines, and the challenges of cloud computing.
Unify all network locations into one environment
Support efficient access and use of resources, regardless of size or scope
Provide resilient, scalable networks with predictable performance and reduced complexity
Simplify management with fabric extensibility
Intelligence
Cisco Nexus delivers intelligent services directly into the network fabric. It transparently extends the network to encompass all network locations into a single, extended environment with consistent services and policy.
Make services available consistently across applications and workloads
Scale service delivery capability automatically
Deploy applications faster, with policy-based compliance instead of physical infrastructure changes
At A Glance
Building Next-Generation Data Centers
Resource virtualization is central to the Cisco Data Center Business Advantage architectural framework. It helps you reduce costs in three ways:
Increases asset utilization
Improves business resilience
Enhances responsiveness to business needs
These next-generation virtualized data centers need a network infrastructure that delivers the full potential of technologies such as server virtualization and unified fabric.
Cisco Nexus Products
Cisco Catalyst Products
Related Links
Featured Case Study
University Builds High-Performance Cluster

Read Case Study
Unified Fabric Aids Healthcare
Close

Viewing this video requires the latest version of Adobe Flash Player with JavaScript enabled.
Cisco Algo Boost Technology Overview
Close

Viewing this video requires the latest version of Adobe Flash Player with JavaScript enabled.