Automating the Driving Experience
Read about consumer preference on automotive buying in this Connected Customer Experience Report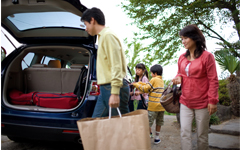 Valuable Research on the Customer Experience
According to Forrester Research, successful organizations will differentiate themselves by delivering consistent, highly secure, customizable, and scalable customer experiences.
To help customers better understand this trend, we have commissioned the Cisco Connected Customer Experience Report series. These reports are based on interviews of end-users and business professionals from 10 countries in healthcare, retail banking, automotive, and retail. They covered three subjects:
Privacy and personal service
In-person versus virtual customer service
People's reliance on machines.
Some of the answers and preferences may surprise you.
Organizations that deliver great customer experiences will realize true business impact through better operating efficiencies, improved customer loyalty, and growth. The first step of that journey is to better understand your customers. This report offers valuable insights to help you achieve that first step.
More on Customer Experience

Today, 74 percent of patients are open to a virtual doctor visit.

Learn about shopper preference for automation and omnichannel experiences. (PDF - 1.05 MB)

Read how retail banks can build customer loyalty in this Connected Customer Experience Report. (PDF - 567 KB)
Implementing Customer Experience
These solutions provide the tools and resources you need to deliver high-quality patient experience.
Provide personalized service with two-way video that connects customers to a financial expert.
See how new Cisco Wi-Fi solutions deliver engaging store experiences and valuable shopper insights.
Expert Insight
Rachael McBrearty
Chief Creative, Cisco IBSG
"One of the toughest challenges in Customer Experience today is to move from a transaction-based relationship to delivering meaningful experiences."
Follow Us
Executive Connection
Benefit from leadership and expertise at Cisco

Chief Creative, Cisco IBSG
Executive Bios
About Cisco
Investor Relations