The Most Powerful for Virtualization
WMare VMark Benchmark finds Cisco UCS is best in performance and scalability.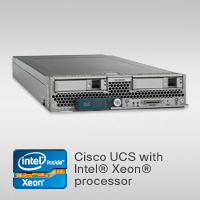 Data Center and Enterprise Applications
The performance of your data center applications increase at all levels with Cisco UCS. Cisco's design makes your data center more efficient by combining servers, networking, management, and storage access in a single management structure.
Applications

Cisco UCS and its underlying components give you a single-fabric data center infrastructure. Cloud-ready, scalable, and integrated with key Microsoft technologies including System Center and PowerShell, our validated solutions optimize Windows Server and Microsoft.

Lower your total cost of ownership (TCO) with a proven data center architecture for Big Data applications and Data Analytics. With Cisco UCS Servers, you gain exceptional performance, scalability, availability, and operational continuity for demanding Big Data applications – with predictable throughput and latency.

Reduce SAP deployment risk, complexity, and costs. Cisco UCS provides differentiated, scalable, and highly secure end-to-end solutions. Cisco Servers are designed with the performance and reliability to power memory-intensive and mission-critical applications.
Get nonstop access to your Oracle applications and data at a lower TCO. Running Oracle Applications or Database on Cisco UCS combines high-performance servers, high-speed networking, storage, and access for an optimized total solution.
Browse Cisco Validated Designs for virtualized and converged infrastructures, cloud and network management, security, applications, and more.
Intel, Intel Inside Logo, Xeon, and Xeon Inside are trademarks of Intel Corporation in the U.S. and/or other countries
Cisco UCS by the Numbers
Viewing this video requires the latest version of Adobe Flash Player with JavaScript enabled.