Accelerate Application Development
Cisco Nexus 9000 switches and new optics support cost-effective 40 GE.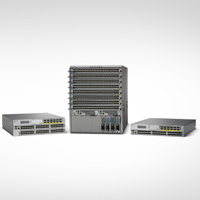 Extending the Cisco Nexus 7000 Series
New Cisco Nexus 7700 switches and F3 modules deliver superior industry scale with a comprehensive data center feature set.
Get Details
Cisco Unified Fabric
Cisco Unified Fabric serves as a primary building block for cloud-based, virtualized, and general purpose data centers. It provides the foundational connectivity and unifies physical, virtual networking, storage, and network services. It offers architectural flexibility and consistent networking across physical, virtual, and cloud environments.
Cisco Unified Fabric, a pillar of the Cisco Unified Data Center, delivers:
Transparent convergence for LAN and SAN environments
Industry-leading, multidimensional scalability, including system, fabric, and geographic span
Sophisticated intelligence
Transparent data center convergence
New Cisco Dynamic Fabric Automation
Cisco is continuing to evolve its Unified Fabric portfolio, with the introduction of Cisco Dynamic Fabric Automation innovations. These simplify fabric management, optimize fabric infrastructure, and automate provisioning across physical and virtual environments. It significantly improves operational simplicity through superior integration.
Cisco Dynamic Fabric Automation delivers:
Optimized fabric infrastructure for enhanced efficiency and scale
Simplified fabric management with Open APIs for ease of operations
Automated provisioning for greater agility
Application Centric Infrastructure
Cisco introduces Application Centric Infrastructure (ACI) to radically simplify the data center. It provides a holistic architecture with centralized automation and policy-driven application profiles that delivers the benefits of software flexibility while retaining hardware performance.
Advantage
Benefits
Simplified
Improve efficiency and simplify mobility for physical and virtual machines and services. Provide end-to-end visibility for any topology.

Significantly speed up both physical and virtual machine rollout with network automation and provisioning, and better integration with orchestration, automation tools, and cloud platforms.

Make troubleshooting easier with centralized fabric management across physical and virtual workloads.
Converged
Deliver high-performance, highly available networks to meet several diverse data center and service provider needs, including the integration of private and public clouds.

Benefit from tight integration between the UCS and Cisco Nexus portfolios, bringing together the network and computing elements of the data center fabric.

Incorporate flexible, reliable Fibre Channel over Ethernet (FCoE), available on the Cisco Nexus 6000 Series, and Cisco Nexus 7000 Series Switches, and Cisco MDS 9700 platforms.
Scalable
Provide resilient and scalable fabric with predictable performance and reduced complexity across larger shared resource pools.

Accommodate large, multi-tenant data center and cloud environments with automation, security, and control.

Support efficient access and use of resources, regardless of size or location.
Intelligent
Make services available consistently, with predictable performance and policies, across applications and workloads, independent of location.

Automate network provisioning and service delivery.

Deploy applications faster, with policy-based compliance instead of physical infrastructure changes.
For Partners
Log in to access tools and resources specifically designed for Partners.
Log In
Additional Resources
Next Steps
Designing Data Center Interconnect
Understand details of data center interconnect and technical fundamentals of LISP and OTV.
Register for Webcast
Path to a Converged Data Center
Experts discuss how Cisco Unified Fabric delivers flexible multiprotocol support.
View Now
Flexible Data Center Switch
See the new, high-performance Cisco Nexus 3100 Switch for mainstream data centers.
Learn More