Using Technology to Deliver Content
The National Hockey League shares innovative ways it serves content to fans. (4:34 min)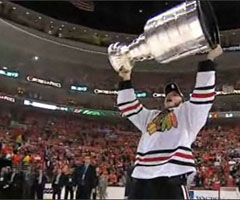 Using Technology to Deliver Content
Close
Viewing this video requires the latest version of Adobe Flash Player with JavaScript enabled.
More on Customer Experience
Smartphone apps use cameras and sound to offer new types of information to users.

Learn how to create, view, and share video with more people in more places.

Three CIOs engage customers in new ways to increase sales and efficiency.
Implementing Customer Experience
Help your people to communicate more naturally - anywhere and anytime.
Take your desktop with you and meet anywhere you can use your phone.
See how other stadiums are using Cisco StadiumVision to improve fan experiences.
Unlock the Power of Video
Close
Viewing this video requires the latest version of Adobe Flash Player with JavaScript enabled.
Expert Insight

John Collins
Chief Operations Officer, National Hockey League
"We try to offer fans content any way that they want it, on any device they choose. We want to know our customers well and serve them."
Cisco Stadium Blog
CIO Community
Executive Connection
Benefit from customer experience leadership and expertise at Cisco.

Senior Vice President, Sports and Entertainment Solutions Group, Cisco
Executive Bios
About Cisco
Investor Relations