Intelligent Network, Innovative Business
Transform your business with a Cisco Intelligent Network. (1:29 min)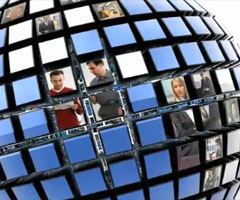 Built for Mobility, Collaboration, and the Cloud
Unify your approach to networking with the Cisco Intelligent Network. Implement transformational systems and solutions that span enterprise, data center, and collaboration infrastructures.
Prepare Your Network for the Future
By taking a unique end-to-end approach, the Cisco Intelligent Network can help you simplify and speed the deployment of both current and future technologies. Transform your business with:
New, more profitable consumption models: Achieve greater competitive advantage, reach, and revenues
Enhanced workforce freedom and productivity: Empower employees to work anywhere, on any device
Controlled operations costs: Take advantage of virtualization innovations, from the data center to the desktop
Increased business agility: Harness the power of cloud computing--public, private or hybrid--without jeopardizing security, compliance, or intellectual property
Adapt to Change
Why is it so important to have a network that is intelligent? Consider some of the following statistics:
In 2010 mobile data traffic was three times the size of entire Internet in 2000
By 2015 the amount of content traversing the Internet annually will be 540,000 times the amount that traveled in 2003
90% of all content on the Internet will be video-based by 2015
50 billion devices will be connected to the Internet by 2020
A million video minutes will traverse the Internet every second by 2015
30% of all data will live in or pass through the cloud by 2020
70% of all enterprises will use enterprise-class cloud technologies by 2012
Having a network that can adapt to change quickly and simply is a must given this rapidly evolving landscape. This is the Cisco Intelligent Network.
More on Cisco Intelligent Network

See how an intelligent network can help make your business more agile by empowering employees to work anywhere, on any device.

When considering intelligent network purchases, TCO is a better criterion than CapEx alone.

Discover how today's networking decisions affect tomorrow's business.
Implementing Cisco Intelligent Network
Connect anyone, anywhere, on any device, at any time.
Help your people communicate more naturally, from any location.
Learn how to meet growing demands on the network and operational support teams.
Expert Insight
Guido Buratti
CIO, Europ Assistance Italy
"We are better able to answer our customers' needs in a shorter time. We are also better able to identify our customers' needs quickly, and move them to the service delivery stage faster."
Cisco Blog
Join the CIO Community
Executive Connection
Learn about convergence leadership and expertise at Cisco.

Chief Technology Officer, Cisco
Executive Bios
About Cisco
Investor Relations