Simplify Video Deployment
Learn how to design, configure, deploy, and troubleshoot Medianet.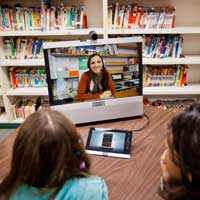 Medianet is the Cisco recommended architecture for video and collaboration deployments. It is the architecture for video while the Cisco Architecture for Voice, Video, and Integrated Data (AVVID) is the architecture for voice.
The Medianet architecture extends the network boundary to include the endpoints. The network works together with the endpoints in order to scale, optimize, and enhance the performance of collaboration components.
Medianet uses this approach because endpoints or applications contain the most information about applications. The endpoints can communicate with the network, making the network media-aware and armed with important information that can be used to make intelligent decisions. The endpoints also become network-aware and can request intelligent network services such as troubleshooting.
This can be accomplished with the Cisco Media Services Interface (MSI), which is embedded in Cisco endpoints and collaboration applications. MSI provides a set of APIs that can enable applications to use Medianet network services as well, and send valuable information about the media flows to the network.
If video is critical your business, Medianet can provide you with a framework to help you simplify deployment, troubleshooting, and management of all your applications.
Learn how to design, configure, deploy, and troubleshoot a Medianet architecture:
Additional Resources
Design Guides
(5)
IP Video Surveillance Whitepapers
Medianet Campus Cisco Catalyst 3650/3850 QoS Design
Poster: Enterprise Medianet Foundation Blueprint
( PDF - 1 MB )
SAFE WebEx Node Integration Whitepaper
Solution Overview—Network Design Considerations for Cisco Mediator Deployments
IP Video Surveillance