Work Anywhere on Any Device
Cisco Jabber is the new collaboration experience. (1:35 min)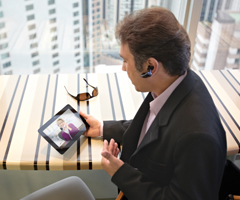 Wireless Infrastructure Empowers Collaboration
Benefit from high-quality, highly secure, and reliable wireless collaboration to increase productivity.
Unified communications and collaboration applications for voice, conferencing, desktop sharing, and instant messaging are changing the way we work and engage with others. However, these applications place increased demand on the network. And an under-provisioned network infrastructure can often affect their performance.
To provide users with a high-quality experience, the network needs consistent end-to-end intelligence that improves the application's performance. The Cisco network infrastructure is engineered to intelligently identify and prioritize these applications. Users benefit from a high-quality, highly secure, and reliable collaboration experience.
The Cisco infrastructure is engineered to improve the performance of Cisco Collaboration applications as well as Microsoft Lync, Microsoft Skype, Apple FaceTime, and Google Voice. Cisco Jabber and Cisco WebEx are part of the product portfolio that offers easy-to-use collaboration capabilities anywhere, on any device.
Additionally, the Cisco wireless solution has been accredited with Microsoft certification to support Microsoft Lync 2013.
Application Visibility and Control (AVC) for Wireless
AVC for Wireless is built upon the Cisco next-generation Network-Based Application Recognition (NBAR2) for routers, switches, and Service Control Engine (SCE).
Deep Packet Inspection for Per-Flow QoS
Using the NBAR2 deep-packet inspection engine, Cisco AVC identifies more than 1000 applications and their sub-flows out of the box. Cisco AVC has the largest application-signature library, plus the capability for dynamic updates. Cisco AVC for Wireless can also store and export long-term reports using Flexible Netflow version 9.
Contextual Policy Definition and Enforcement
Cisco provides comprehensive control to grant, limit, and quarantine network and application access for all users and devices. Our products are designed to help you align your wireless strategy with your business policy or security-compliance requirements and guidelines.
RF Excellence
Cisco's superior RF technology innovations improve the wireless experience for users within high-density environments using Cisco Aironet access points. Our portfolio includes the industry's first 4x4 MIMO, three-spatial-stream access point with integrated 802.11ac. Cisco access points include key features such as:
CleanAir technology – detects, locates, and mitigates RF interference for 802.11a/b/g/n and 802.11ac bands
ClientLink – optimizes the performance of 802.11 a/g/n and 802.11ac clients
802.11r/802.11k-based roaming – improves overall network performance by directing clients to the optimal access point
Design Guides
Additional Resources