Tour the Reinvented Desktop
See how a fully integrated workspace transforms the user experience.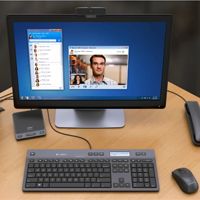 Tour the Reinvented Desktop
Collaborative Workspace Demo
Close

Viewing this video requires the latest version of Adobe Flash Player with JavaScript enabled.
Uncompromised User Experience
Deliver superior collaboration capabilities in virtualized environments that allow users to experience a unified workspace on any device.
Collaborate from any devices: PCs, Macs, tablets, smartphones, and thin clients
Access presence, IM, voice and video, desktop sharing, and conferencing

This software extends the Jabber collaboration experience to users in virtualized environments
Cisco Collaboration solutions for:
Desktop Virtualization Clients
Accessories for Improved User Experience
Cisco Collaboration solutions for Virtualization Experience Infrastructure (VXI) deliver an uncompromised collaboration experience on any device that results in increased employee productivity, greater cost savings, and broader user adoption.
The solutions can enable CIOs to deliver a unified workspace with speed and agility, allowing them to support business objectives and user demands. For IT mangers, they can easily and more securely manage all IT services - from the infrastructure to a new workspace - at lower cost. Users also benefit because they can work however they want to work on any device with an uncompromised experience.
Cisco collaboration solutions offer a holistic, unified approach to solving real-time voice and video challenges in virtualized environments by:
Combining the benefits of virtualization with time-proven unified communications user experiences
Unifying virtual desktop, voice, and video powered by extensive and advanced communications and collaboration capabilities
Delivering a transparent collaboration experience accessed virtually or locally on personal or corporate devices, mobile or deskbound
Cisco Jabber allows users to be productive from anywhere, on any devices - PCs, Macs, tablets, smartphones, and thin clients. Users have easy access to presence, IM, voice and video, voice messages, and conferencing. Cisco Virtualization Experience Media Engine (VXME) extends Cisco Jabber�s unified collaboration experience to users in virtualized environments by enabling intelligent processing of real-time voice and video traffic on the local device
Cisco Unified Communications Manager is the unified call control solution that manages all communications between applications, endpoints, and devices, including Cisco Jabber, both for IM, presence, voice, and video. Call control and session management for Cisco Jabber is managed by Cisco Unified Communications Manager. IT managers who deploy Jabber on HVD have a choice on how they deploy Cisco Jabber to end users. Choices include:
Cisco Jabber on HVD with VXME on thin clients or Windows PCs for users who want an integrated voice and video experience within the virtual desktop
Cisco Jabber on desktops and mobile devices alongside HVD software such as Citrix Receiver and VMware View for users who prefer to access their Jabber client from their local PCs, Macs, or mobile devices
When combined with the innovative Cisco Unified Communications accessories, users have the freedom to work their way without compromising the user experience or security.
VXI Delivers Business Value
Case studies reveal the business benefits of cost savings and greater productivity.
Read Now
Gartner Names Cisco a Leader
Cisco named a leader in the 2012 Gartner Magic Quadrant for Unified Communications.
Learn More
Related Links
VXI Solutions & Services
Technical Resources