Evolve Your Network for New Opportunities
The Internet of Everything is creating many business opportunities. Your network infrastructure must evolve to capture them. You need a new architecture to automatically provision and rapidly deploy network services and applications.
By building on the Cisco Borderless Networks architecture, the Cisco ONE Enterprise Networks Architecture transforms IT through a platform that is:
Open
Programmable
Application-centric
Cisco ONE Enterprise Networks Architecture goes beyond software-defined networking with a larger-scale approach to network programmability. This architecture increases network agility and performance, while making the best use of existing network resources.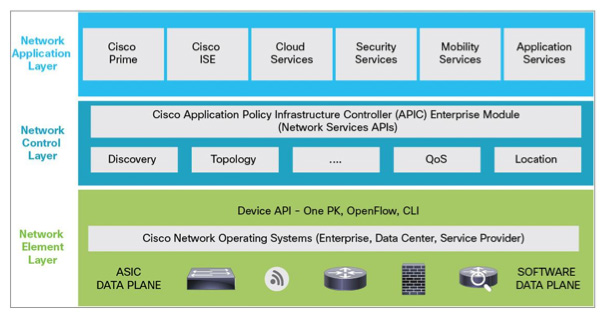 Network Application Layer
The Network Application Layer provides:
An open application ecosystem to propel innovation, resulting in lower risk, easier integration, and lower TCO
A range of applications across the cloud, mobility, and security, promoting innovation, faster cloud migration, and easy deployment
Mutually aware networks and applications, resulting in application-optimized networks and network-optimized applications
Network analytics available to all applications to offer insight and promote new business models
Control Layer
The Cisco Application Policy Infrastructure Controller (APIC) Enterprise Module is the network control layer of the Cisco Open Network Environment (ONE) Enterprise Networks Architecture. The controller simplifies configuration and provisioning of networks for application economy.
Through programmability, the controller automates network configuration and can enable IT to rapidly respond to new business opportunities. The controller optimally provisions services, such as security, quality of service (QoS) and WAN path optimization throughout the enterprise network.
The Cisco APIC Enterprise Module:
Massively simplifies configuration and provisioning
Automates security and threat remediation across the network end to end
Can enable rapid network troubleshooting through automation
Delivers business intelligence centrally for business growth
Promotes rapid innovation through open APIs and programmability
The Control Layer also supports APIs such as:
Network Element Layer
The Network Element Layer is comprised of a comprehensive set of devices across routing and switching, wired and wireless, physical and virtual networks with:
Industry-leading, most widely deployed, Cisco IOS Software and programmable Cisco application-specific integrated circuits (ASICs)
Support for the open APIs OpenFlow and onePK
CLI as a programmable API so that both new and existing deployments can be supported by the Cisco ONE Enterprise Networks Architecture
Increase Business Opportunities
The Cisco ONE Enterprise Networks Architecture helps you take advantage of new business opportunities through:
Increase your business agility and quickly deploy advanced services through superior network programmability. Help protect your existing network investment with an architecture built with the industry-leading portfolio for:
Switching
Routing
Mobility
Security
Simplify and Strengthen Security
Offer more secure BYOD access and mobility with Cisco backbone switching.
Register for Webcast
Increasing IT Business Impact
See how IT can align network strategies to meet business requirements.
View Survey Results
Reinvent Network Access
Combine wireless, wired, and security technologies in a Unified Access systems approach.
View Design Guide