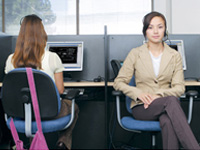 Enhance customer service with video, chat, mobile content, and social media to create more interactive and collaborative relationships.
Cisco provides a range of customer collaboration solutions that promote proactive customer engagement by extending traditional call-center technologies with:
Integrated voice, video, and web communications
Social media monitoring
On-demand access to experts
See More Use Cases
Explore more ways to meet your business goals by improving collaboration.
Go Now
Benefits
Improve responsiveness by providing proactive, real-time response using social media.
Give customers the flexibility to choose how they interact with you by giving them multiple contact options.
Reduce the per-interaction cost of delivering customer service.
Get more direct insight into customer opinion and activity than surveys or focus groups offer.
Proof Points
Forrester reports that multichannel customer strategies can increase online sales by 48 percent and customer satisfaction by 36 percent while decreasing costs.
Cost per contact in a customer-support community is more than 90 percent lower than the cost per call to a call center. (Source: McKinsey)
About 79 percent of consumers are aware of Twitter as a method of providing public feedback. (Source: Maritz Research)
Of the best-in-class companies, 63 percent report that video helps their customer-service efforts. (Source: Aberdeen Group)
Primary Products for Use Case

Recommended for Best Practices
AAA Western & Central New York's Sales closure rates jumped from 60 percent to 80 percent after it implemented a call center with Web and video tools and aggregating member data from online, phone, and in-person contacts.
"We now hold daily online WebEx meetings with around 300 customers. WebEx is a great way of sharing product information as well as delivering training updates and ensuring regulatory compliance." —Sven Mueller, CIO, Fonds Finanz
Business Services: Outsourced Customer Service
Healthcare
Retail
Sports and Entertainment
Financial Services
Government and Public Sector
Analyst Content
Cisco Content
Keep Pace with Customers (Video - 4:13 min)
These demonstrations of multiple products within the Cisco Customer Collaboration portfolio include Finesse, SocialMiner, and MediaSense.
Day in the Life of an Insurance Professional (Video - 3:50 min)
Discover how to use Cisco Collaboration solutions to generate leads and help convert them into profitable customer relationships.
SocialMiner at Cisco Live 2012 (Video - 4:17 min)
See how the Cisco social media team can listen and respond in real time to attendees at Cisco Live.
Video Data Sheets
Design Guides
Improve team and customer experiences with services from Cisco and its partners. Align your IT objectives with business goals, mitigate risk with faster time to value, and better serve your customers.