SIP Trunk Designs That Enhance Business Agility
See the new on-demand webcast featuring Q&A with Cisco and Verizon experts.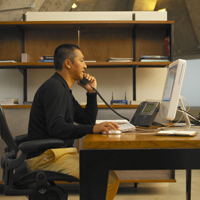 Secure, Reliable Voice Calls over Your Network
IP telephony transmits voice communications over the network using open, standards-based Internet Protocol.


It provides a way for you to extend consistent voice communications services to all your employees in their workspaces -- on the main campus, at branch offices, remote, or mobile.


Cisco IP telephony solutions are an integral part of Cisco Unified Communications, which unify voice, video, data, and mobile applications on fixed and mobile networks. Your employees can talk with each other using almost any media, device, or operating system


Using your network as the platform, your organization can gain the inherent benefits of a converged network for transport and interconnection. IP telephony makes it easier to:
Provide highly secure, reliable, scalable communications that take advantage of your LAN and WAN
Improve employee flexibility and productivity with the full range of Cisco Unified Communications and third-party applications
Take advantage of a wide range of Session Initiation Protocol (SIP)-based capabilities
Unified Communications
View, optimize, and manage your entire communications system from one screen.
All Products
Deliver consistent communication services to all of your employees in their workspaces with this full suite of solutions and endpoints.
Call Control
Virtualization Experience Client
Learn More
At A Glance
Call Processing and IP Phones
Cisco Unified Communications call processing systems deliver voice, video, mobility, and presence services to IP phones, media processing devices, VoIP gateways, mobile devices, and multimedia applications.
Cisco IP phones are available in wired and wireless versions and provide IP communications for Cisco Unified Communications Manager, Unified Communications Manager Business Edition, and Smart Business Communications System (SBCS).
Softphones such as Cisco IP Communicator and Cisco Unified Personal Communicator extend voice and multimedia functionality to Windows and Mac computers.
Compare IP communications products in the Cisco Unified Communications portfolio.
Learn more about IP communications with these resources:
Resources
Related Links
Solutions
Products & Services