Get a Strategy for Mobile Security
Learn from the experiences of mobile workers, to safeguard your network.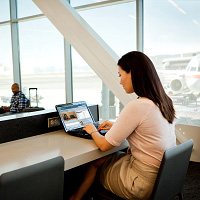 Easily Manage Borderless Network Security
The Cisco AnyConnect Secure Mobility Solution provides a comprehensive, highly secure enterprise mobility solution. It combines industry-leading Cisco web security with next-generation remote access technology to help organizations easily manage the security risks of borderless networks.
Now, the Cisco AnyConnect Secure Mobility Solution continues to lead with next-generation security and encryption, including support for the Suite B set of cryptographic algorithms, and support for IPv6 networks.
With this mobile security solution, workers can globally access the network with their device of choice, including laptops, tablets, and smartphones. They can then easily and more securely use the applications and information they need to do their jobs.
The Cisco AnyConnect Secure Mobility Solution offers:
Security policy enforcement that is context-aware, comprehensive, and preemptive
Connectivity that is intelligent, simple, and always on
Highly secure mobility across the rapidly increasing number of managed and unmanaged mobile devices
The following components make up the Cisco AnyConnect Secure Mobility solution:
Additional Resources
Experience AnyConnect
Close
Viewing this video requires the latest version of Adobe Flash Player with JavaScript enabled.
Presentations
(1)
At-a-Glance
(1)
Q&A
(2)
Solution Overviews
(2)
White Papers
(2)
Case Studies
(4)
Relevant Products
Find details about hardware devices, software applications, and specialized components that relate to your networking solution.
Relevant Solutions