Embracing Mobility Trends
TechwiseTV focuses on the bring-your-own-device (BYOD) trend, and how to accommodate it.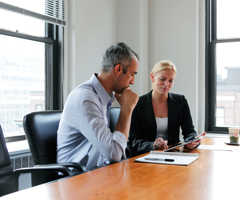 Featured Content
Go Beyond BYOD with Cisco
Get a concise overview of Cisco Solutions for the optimal workspace experience.
Learn More
Case Study: Bowdoin College Embraces BYOD
Learn how Bowdoin securely enabled mobile devices for their staff and students, simply.
Read Now
All the Latest Buzz
Join our Social Media communities to connect with other experts and get first-look information.
Connect Today
Beyond BYOD to the Optimal Experience for Any Workspace
Now your IT organization can go beyond simply connecting user-owned devices, to scaling the experience of many users with multiple devices, anytime, anywhere.
The Cisco BYOD solution delivers unified security policy across the entire organization. The solution helps to optimize and manage the experience for many types of users with diverse device, security, and business requirements.
Discover a truly experience-centric solution with context-aware on-boarding, secure access to resources, and high-performance network connections for any mobile device. These capabilities are complemented by new end-to-end wired, wireless and VPN performance management. The result is a superior user and IT experience without sacrificing security, visibility, and control.
The new Cisco BYOD solution includes the following advantages.
Uncompromised Experience at Scale
Deliver the best experience to any user, regardless of device or desktop (native or virtual), with new enhancements in ClientLink, VideoStream, 802.11r, and 802.11u.
Highest-performance network infrastructure with double the video scalability compared to any other vendor with VideoStream
Industry-leading controller scalability to handle the influx of multiple devices per person
IPv6 client performance
Unified Security
Deliver a single policy across your entire organization with a single policy management plane, including: guest, posture, device profiling and network access. Cisco also provides data security in the network (on and off premises) to help ensure IP protection.
Cisco Identity Services Engine (ISE) innovations include:
New zero-touch on-boarding for new devices
The unique capability to provide both network-based and endpoint-based scanning
Simplified Operations and Management
Simplify deployment, accelerate troubleshooting, and lower your operating cost with Cisco Prime management capabilities.
New Cisco Prime Assurance Manager provides simple dashboard visibility into application performance across wired and wireless networks and end devices.
New Cisco Prime Infrastructure offers a consolidated bundle of wired and wireless lifecycle management plus new branch network management functions.
Integration of the latest WLAN controller capabilities into the Cisco ISR G2 and Catalyst 6500 Series helps optimize operational model in the campus and branch.
These solutions complement Cisco Virtual eXperience Infrastructure (VXI) offerings, giving your organization more ways than ever before to deliver the next-generation workspace experience.
Additional Resources
Beyond BYOD to the Optimal Work Your Way Experience in Healthcare
Uncompromised Experience at Scale
Your organization can provide an excellent user experience with consistently fast mobile device connections, the capacity to support high-density situations, and high performance for voice and video applications.
Cisco Enterprise Mobility Solutions help to enable a transparent experience across wired, Wi-Fi, and cellular networks and devices. Achieve WLAN performance for mobile devices that is 30 percent faster than the competition can offer.
Unified Policy
Cisco solutions help you safely allow the right level of access to diverse user groups and device types. You can get a customized solution that will meet your business needs, while covering a wide range of mobility scenarios.
Achieve more consistent security and simplify your operations with a single policy source across wired, wireless, VPN and MDM. Cisco also offers broad mobile device OS support in Cisco AnyConnect VPN software, including IOS, Android, and Windows Mobile.
Simplified Operations and Management
Simplify operations with a single source of policy and management. Efficiently deploy and troubleshoot network access and the user experience on mobile devices. You can troubleshoot more quickly and improve productivity with solutions offering full visibility of applications, services, and devices.
Unified Security
Simplify management with a single source of policy across the entire enterprise with automatic device on-boarding and device profile identification.The Cisco Identity Service Engine is a core component of the Cisco TrustSec solution and Cisco's SecureX architecture.
This enhanced, remote-access technology provides a reliable, consistent VPN experience across a wide range of devices.
Uncompromised Experience at Scale
These access points surpass the competition with up to 30 percent faster performance for mobile devices. They also offer a range of feature and performance options, including teleworker solutions.
Simplify wireless network management with controllers that feature support for up to 3,000 access points from a single data center appliance.
Provide real-time intelligence, with location tracking, wireless intrusion prevention (WIPS), and rogue detection.
This end-to-end systems approach delivers the next-generation virtual workspace, unifying desktops, voice, and video in a software-based client for mobile devices.
Lets you see users availability, communicate with instant messaging, access voice messages, and make and manage voice and video calls over Wi-Fi networks.
Mobile applications let you join meetings, see shared applications, and view and share video for a rich collaborative experience.
Simplified Operations and Management
This single package product provides complete infrastructure and mobility lifecycle management - configuration, monitoring, troubleshooting, remediation, and reporting.
Benefit from end-to-end visibility for applications and services, improving availability and end user experience.